Teaching and Learning Building
by Make Architects
Client The University of Nottingham
Awards RIBA East Midlands Award 2019, RIBA East Midlands Sustainability Award 2019 - sponsored by Michelmersh and RIBA National Award 2019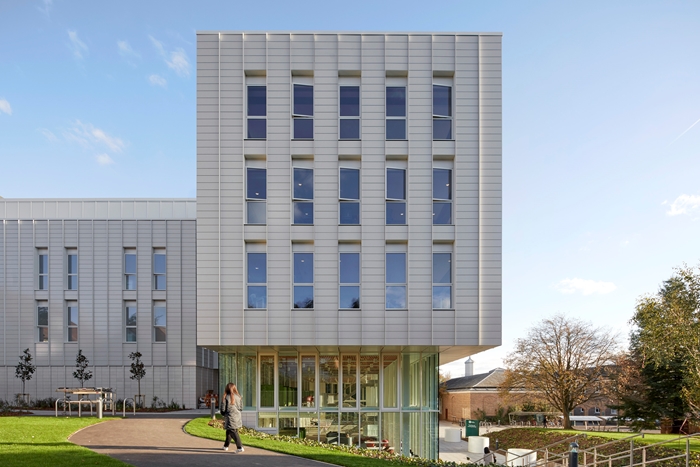 The Teaching and Learning Building is arranged around a simple idea of maintaining key circulation routes through the campus that also connect to a series of teaching blocks around a central atrium. These blocks are then pushed and pulled to relate to the building's neighbours, a 20th Century villa and the Hallward Library.
The entire building is set out on a rigorous one metre grid. A white terracotta tile rain screen, whose depth of reflection and subtle colouration continually changes as light falls on each elevation, defines the upper façade of the blocks. Below a datum line, that is set out from the neighbouring library, the plinth is detailed in finished masonry. These materials have been chosen carefully and the building should age gracefully because of it.
The building diagram is seen through with total rigour by utilising this grid and many nice details, such as the wind post locations and the setting out of the flooring and external paving, are picked up within this self-enforced rhythm.
Upon entering the building, diagrams of the teaching blocks can be easily read easily read, connected by generous circulation that is being inhabited by students as they see fit.
The external terracotta and masonry finishes are also continued inside the building blurring the distinction between inside and out. The architect has also introduced oversized bay windows between the blocks where you feel as if you are sitting in the surrounding mature trees.
In conjunction with the external materials, the expressed steel frame and cross laminated timber exterior walls provide a restrained palette for the entire building. Timber acoustic soffits and seminar room partitions are a final warm touch. A neatly detailed passive ventilation system contained within the façade and room partitions further reinforces the legibility of the scheme. These point to a well-conceived sustainability strategy that is again very understated and assured in its handling.
This is also a building of grand staircases, accommodating over thirteen hundred students at peak capacity and a significant level change between the two entrances. These stairs are successfully detailed between the teaching blocks and in one stair, only lit from above, the full expression of the components of the building is revealed.
Location Nottingham
Contractor Kier Consultants
Structural Engineers AKTII
Environmental / M&E Engineers Max Fordham
Project Management Gleeds
Quantity Surveyor / Cost Consultant AECOM, Simon Deakin
Internal area 5,940 m²