Creek Cottage
By Jonathan Hendry Architects
Client Beach House Holidays Limited
Awards RIBA East Midlands Award 2021, RIBA East Midlands Client of the Year 2021 and RIBA East Midlands Small Project of the Year Award 2021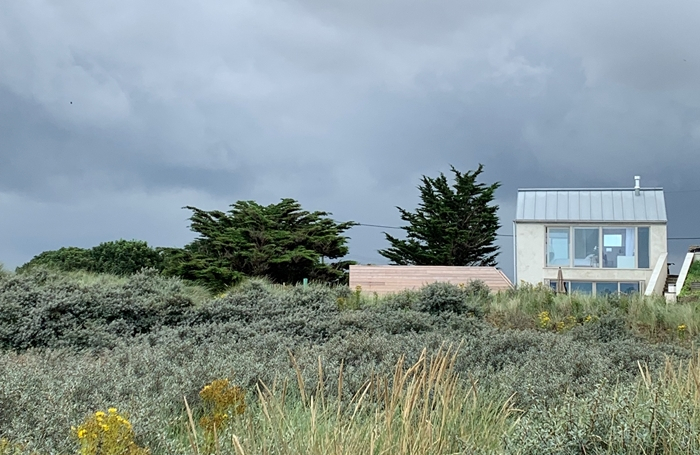 Creek Cottage is a refurbishment of a small holiday cottage on the sandy seafront in Anderby Creek, Lincolnshire. It is an exquisite, hidden gem that has been thoughtfully designed and executed.

Although small, every inch of the space had been utilitised to provide a comfortable six-person space. There are fun elements, such as a transparent bathroom in the center of the plan and sliding screens to hide the utility area and downstairs loo.
The house has been designed very much for life on the beach. A huge bathroom allows for showering and rinsing off after a swim and a cloakroom style corridor provides storage for beach gear outside the downstairs shower. There is a sheltered raised deck with subtle lighting where you can huddle down and watch the world go by, even on a breezy day.

The single dwelling sits at the end of the street and nestles harmoniously against the sandy dunes beyond. A local colour palette has been used along with raw natural materials. The external render comprises subtly reflective aggregate to scatter the light and lend a softness to the building; the external materials are sympathetic to their surroundings.

The house is powered by an air source heat pump making the internal spaces feel very comfortable with reportedly low bills.

Every part of the space has been considered and the architect had been involved in the choice of all of the interior elements, down to the cutlery and bed sheets. The collaborative relationship between the client and architect was evident. The client obviously had complete faith in the architect. This has resulted in a completeness that means the whole house sits together as a perfectly formed entity.
Internal area 102.00 m²
Contractor J.H.A Winter & Sons Limited
Structural Engineer Simpkins Kenny