The Parchment Works
by Will Gamble Architects
Client Private
Awards RIBA East Midlands Award 2022, RIBA East Midlands Conservation Award 2022, RIBA East Midlands Small Project of the Year Award 2022 (sponsored by Gaggenau) and RIBA National Award 2022 (sponsored by Forterra).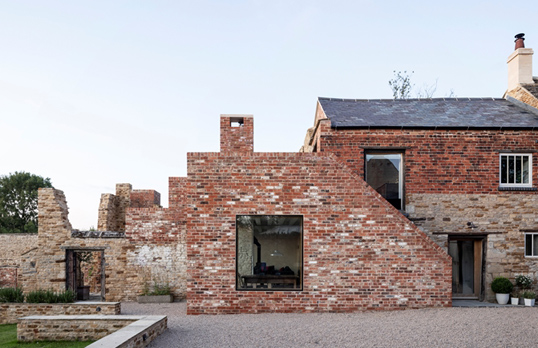 Parchment Works is a delightful extension to a grade II listed double-fronted Victorian house. The formal street frontage gives no clues to a garden extension that is full of surprises, with indoor and outdoor rooms that enjoy the tectonic richness of the ruined walls of an historic parchment factory and designated scheduled monument.

The architect was persuasive in bringing both client and conservation officer on side with the idea of keeping the ruin and the bones of a cattle shed attached to the house. Living rooms and a bedroom above are discretely inserted inside the ruined walls as a lightweight skin, leaving the massive stone and brick walls to dominate the external expression.

The jury panel enjoyed the connections set up in the plan, for example, a long view from the front door leads right through the cellular rooms of the Victorian house to the light-filled living spaces and garden rooms beyond. They enjoyed the rich variety of experiences available in such a small extension, where each room or external area connected to others offering many different ways to use this part of the house. There is ambiguity in the way that openings in ruined walls become windows to internal space or simply act as framed views to the garden and the extraordinary long views to the valley beyond. In one sense the house gradually disintegrates - from the formality of the symmetrical street frontage - to the informality of garden landscape as it rolls away to the valley below. The architecture emphasises and emboldens this relationship, rather getting in the way of it, with muscular walls of salvaged brickwork, and simple large glazed infill panels.
Of particular note, is the elegance of detailed resolution of material junctions in all places where new and old meet. The complexity of the conservation narrative was clearly a huge challenge, yet there is a clarity of expression and a pragmatism in making useful and durable details that clearly express the layering of new and old, contrasting the undulating lines of vernacular, historic construction with the straight, orthogonal lines of the new.

The architect has combined the inventive re-use of existing structures with reclaimed and up-cycled materials to create an exemplar of conservation practice, and the jury were delighted to give this project a regional award.
Net internal area 104.00 m²
Structural Engineers CDS Consultancy