​40 Chancery Lane
by Bennetts Associates
Client Derwent London
Awards RIBA London Award 2017 and RIBA National Award 2017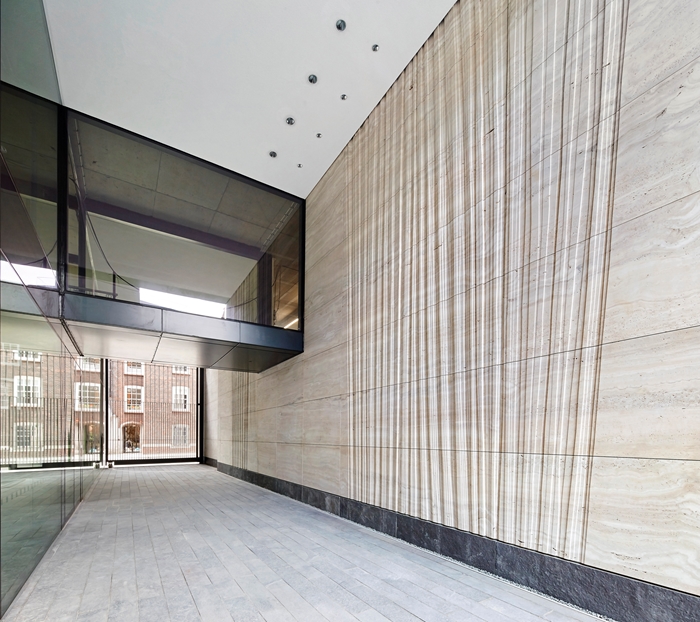 The building is located in the City of London's 'midtown', on a large corner site close to Chancery Lane station. Several existing, dilapidated structures were replaced with a 'U'-shaped series of connected office blocks, surrounding a rear courtyard.
This development is elegantly composed to draw upon the urban character of the local area and retain an existing building on Took's Court. A small, publicly-accessible courtyard which is reached from Chancery Lane provides a welcome lung in this dense urban location. The space is attractively landscaped and its connection to a secondary entrance to the office building and restaurant space on Chancery Lane ensures that the courtyard has meaning and purpose.

The jury admired the elegant travertine-clad façade and appreciated the way the scale reduced on Cursitor Street.

The retention of the existing building in Took's Court allows a memory of the traditional "hole-in-the-wall" character of the conservation area on the outside, while also introducing a narrow internal glazed street. This provides some relief from the remainder of the space while, at the same time, suggesting a natural location for meeting rooms and private offices.

The wall carvings in the covered entrance route to the courtyard were designed by Susanna Heron and provide an attractive relief to the flank wall to the restaurant space.

This was an extremely well-considered and resolved development, responding and exploiting the complex nature of the mix of uses: the brief, the courtyard space, and the retained building; while, at the same time, realising an elegant design and a sustainable energy solution.


Contractor Morgan Sindall
Structural Engineers AKT II
M&E Engineers Arup
Quantity Surveyor Aecom (previously Davis Langdon)
Project Management Buro 4
Landscape Architects J&L Gibbons
Acoustic Engineers Clarke Saunders Associates Acoustics
Access Consultant Arup
Lighting Design Pritchard Themis
BREEM Arup
Façade EngineerArup
Façade Access Consultant Reef Associates Ltd
Fire Engineer Jeremy Gardner Associates
Ecologist Aecom (formerly URS Scott Wilson)
Security ConsultantQCIC
CDM Jackson Coles
Building Control Approved InspectorButler & Young
Internal Area 13,156 m²