​5-7 St Helen's Place with The Leathersellers' Hall
by Eric Parry Architects
Client The Leathersellers' Company
Awards RIBA London Award 2017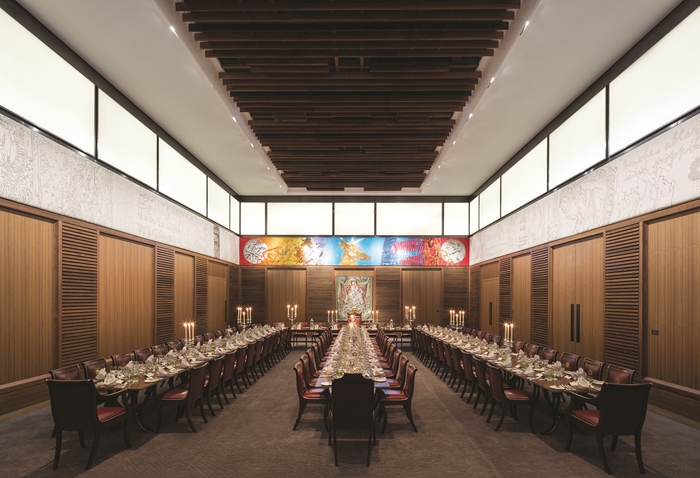 This development returns The Leathersellers' Hall to the site of its earliest historic location at 5-7 St Helen's Place. The new building sits behind a listed façade facing St Helen's Place and looking to the south over St Helen's church. The new south elevation is clad in articulated ceramic tiles with a richness of detail reflecting the craftsmanship of the building's interior.
These interiors have been immaculately crafted, with references, in many locations, to the history of the Leathersellers' trade. The level of thought put into every element of the interior, including furniture, rugs, and leather-clad banquettes, reveal the care and consideration the architect has brought to the project.

The brief involved providing a new double-height livery company hall within the basement of the existing building. The stair hall, the reception room and the court room provide the three principal spaces at ground floor level. This sequence of rooms, connected to the more modest entrance lobby, work well and allow a natural circulation down the oval stair to the dining hall at basement level. The concrete oval stair has an elegant profile and many of the interior elements demonstrate high quality craftsmanship in leather, timber and metalwork.

The crafted interiors provide a unique experience to enrich the journey between the entrance and the dining hall, and a new facility of a suitable quality to realise the aspirations of the livery company.


Contractor Multiplex Construction Europe Ltd
Structural Engineers Price & Myers
Lighting Design DPA Lighting Design
Building Services Consultant ChapmanBDSP
Catering Consultant Keith Winton Design Ltd
Basebuild Consultant Structural Engineer Robert Bird Group
Basebuild Consultant Facade Engineer ARUP Engineers
Basebuild Consultant M&E Engineer Hilson Moran and Partnership Ltd
Basebuild Consultant Planning Consultant GVA Grimley
Basebuild Consultant Building Control City of London
Internal Area 5,765 m²