​55 Victoria Street
by Stiff + Trevillion with Pozzoni
Client Alchemi Group and Marker Study
Awards RIBA London Award 2017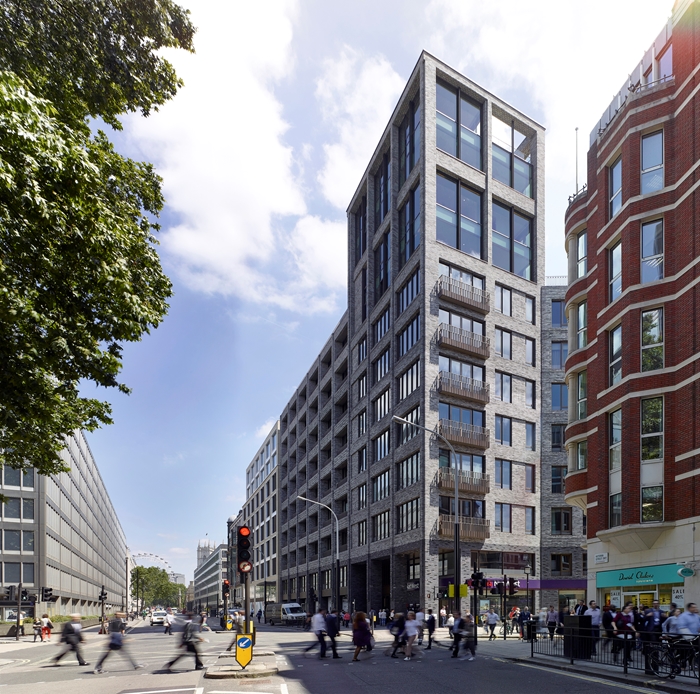 55 Victoria Street is a residential conversion and extension of an office building from the 1980's. Planning was granted to create 57 apartments, with retail uses at ground floor; a prominent extended twelve-storey component on the North-West corner and the creation of two south facing communal gardens on the ground and eighth floors.
The completed brick clad project makes a strong urban statement at a kink in Victoria Street, and this is amplified by the use of a distinctive grey, peppery choice of brick. The base of the building is enlivened with random insertions of darker glazed bricks. The elevations above ground are ordered simply, reflecting the regular structural pattern of the original building.

The entrance to the building is defined by an ornate, double-height, brick clad lobby, reflecting the 'New York loft' quality that the developer has aspired to. This quality of design and finish carries on throughout the lobbies on the upper floors. Within the apartments, glazed internal doors and elegant but clean joinery throughout, creates interiors that are just as distinctive. These interiors suggest homeliness as might only be found in classic post-war apartment buildings, rather than the crop of new for-sale housing blocks currently proliferating in London. Stepping out through bronze finished windows, and beautifully detailed balconies, it is clear that the design of the whole building has been carefully controlled at every step.

This is a speculative apartment building project of great quality and character, with consistent and thoughtful architecture everywhere, making it unusual, enjoyable and simply lovely to visit.


Contractor John Sisk
Structural Engineers Mason Navaro Pledge
M&E Engineers NDY (Norman Disney & Young)
Quantity Surveyor Core 5
Project Management Buro Four
Landscape Architects Townshend
Lighting Design PSLab / NDY
Facade Engineer Net PMC Ltd.
Internal Area 9.592 m²