​Belarusian Memorial Chapel
by Spheron Architects
Client The Holy See of Rome
Awards RIBA London Award 2017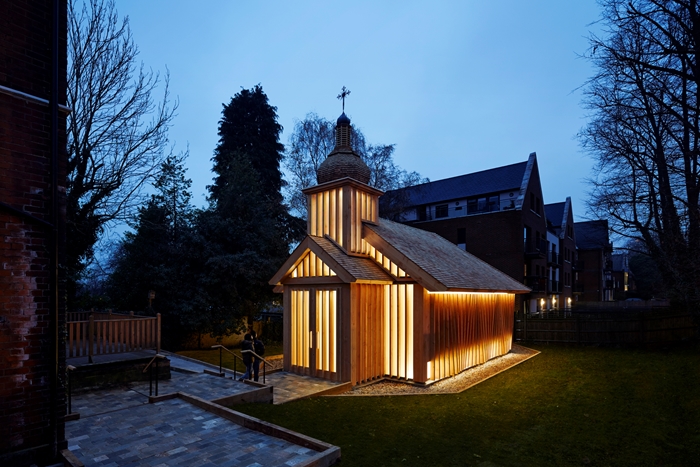 The Belarusian Memorial Chapel is the first wooden church built in London since the Great Fire of 1666. The chapel has been built for the Belarusian diaspora community in the UK and is dedicated to the memory of victims of the 1986 Chernobyl nuclear disaster. The chapel, constructed in timber, is surrounded by 17 protected trees in the grounds of the cultural centre for the Belarusian community in North London.
After two failed planning applications for an extension to the original community centre building, the client team approached Spheron Architects who took a completely new take on the site and project. Rejecting an extension for a standalone building, the architects aimed to take the traditional form and materials of the rural Belarusian church and introduce a series of contemporary twists. They have achieved this aim through introducing an undulation of the timber elements on the exterior chapel wall and by bringing natural light into the chapel.

By working closely with designer-fabricator Andrew Trotman, the architects have designed a handcrafted timber structure with well-constructed details. Together they have created a very special building that will engage both the casual passer-by and its own congregation.


Contractor Timberwright Ltd
Structural Engineers Timberwright Ltd
Landscape Architects Spheron Architects
M&E Engineers Arup
Quantity Surveyor Change Project Consulting
Planning Consultant Alpha Planning
Internal Area 69 m²