​Boxpark
by BDP
Client Boxpark
Awards RIBA London Award 2017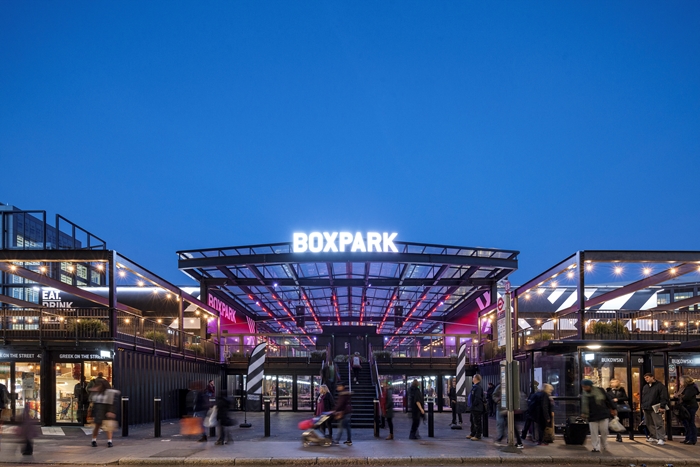 This brilliantly extroverted take on the traditional indoor market, brings a lively energy to the entrance of East Croydon Station; a stopping point on the path to the new developments along the railway.
It is constructed from 96 upcycled shipping containers, arranged in simple plan form on either side of a huge market hall and also facing out onto the surrounding streets. These contain a variety of different sized food and drink businesses, the majority of which are sourced from the immediate area, at affordable rents. For many tenants these units are their first permanent location, having previously operated out of food vans or market stalls.

The tough shipping container aesthetic, with simple, cheap materials such as a PVC roof and basic timber boarding on the upper levels, is entirely in-keeping with its semi-industrial image.
The central space hosts a multitude of diverse events, from children's petting zoos to dance festivals organised by local artists. Everyday tables and benches serve the surrounding food and drink outlets. The project is impressive in its diversity of users, crossing a variety of generations and communities. Boxpark felt like it truly lived up to its aspiration as a market in the spirit of Covent Garden and Greenwich Market; providing a central meeting place and enlivening a 'meantime' space that would otherwise remain derelict until it was developed. The founder's parents owned Greenwich Market and this enterprise felt like a return to roots.


Contractor Randall Contracting
Structural Engineers BDP
M&E Engineers BDP
Acoustic Engineers BDP
Project Management STACE LLP
Lighting Design BDP
Quantity Surveyor STACE LLP
Graphic Design Filthy Media
Interior Design Brinkworth
Internal Area 2622 m²