​Home Studio Kilburn Lane
by Architecture Studio
Client Private
Awards RIBA London Award 2017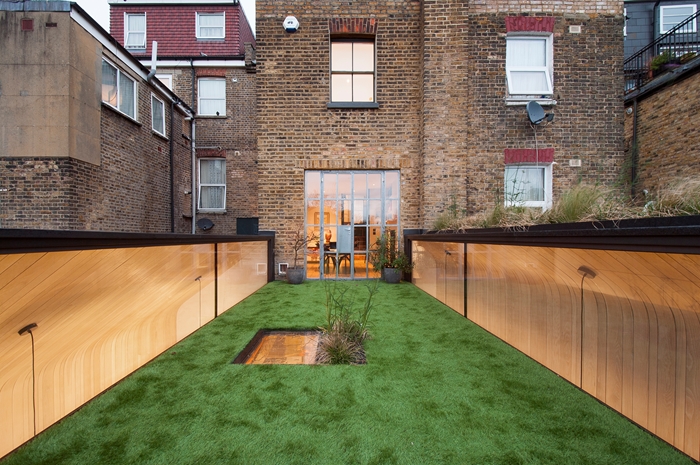 Situated behind the shopping parade of Kilburn Lane, the project creates a new workspace for architects Studio McLeod. An extension to the existing terrace, fills the former garden space; maximising the ground floor of the plot, giving valuable amenity space to the connected maisonette in the upper parts of the building.
Clerestory glazing provides natural light, solar control and height to the studio and forms a balustrade to a new garden on the first floor level. The addition successfully joins home and office and reconnects the commercial space of the ground floor to family life above. Hidden doors allow varying degrees of visual and acoustic separation between the spaces and a sliding staircase provides the unexpected delight of motorcycle parking within the entrance hall.

Studio McLeod have delivered a sophisticated response to the concept of an interconnected home and studio. The project incorporates a number of inventive moves to unlock the potential of the difficult site and is an exemplar in how amenity space can be created behind the capital's high streets.

Through operating as client, designer and main contractor, the architects have achieved a high level of invention, control and detail to create a signature workspace for both practice and family to inhabit.


Contractor Ciorba Construction Ltd
Structural Engineers BDL
Survey Drawings Edward Gardner Surveys
Audio Visual Consultant Twisted Pear
Internal Area 63 m²