​Mathematics - The Winton Gallery
by Zaha Hadid Architects
Client Science Museum Group
Awards RIBA London Award 2017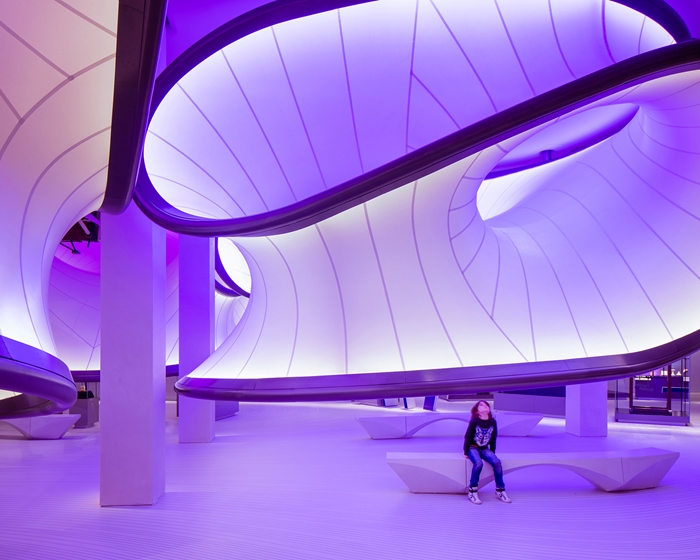 The gallery is the first permanent, public museum exhibition designed by Zaha Hadid Architects. Located within the Science Museum, the project refits a 900m² space to form a new Mathematics gallery.

The previous maths gallery contained over 600 objects, including cabinets crammed with geometrical objects. The new gallery responds successfully to the curatorial ambition to present mathematics not as an academic concept, but as a practice that influences technology and enables the environment around us to be transformed.

The design is driven by equations of airflow used in the aviation industry. Positioned at the centre of the gallery is the Handley Page 'Gugnunc' aeroplane, built in 1929. Inspired by the aircraft, the layout and lines of the gallery represent the air that would have flowed around this historic aircraft in flight: from the positioning of the showcases and pre-cast concrete benches; to the three-dimensional curved surfaces of a floating central pod structure.

Although the layout is clearly generated through the dynamics of movement, this has been tempered through the creation of a new space at it centre: an 'eddy' which gathers groups and encourages individuals to pause, orientate themselves and engage with the wider exhibition. From a distance, the new structure appears exciting; demanding attention from inquisitive minds, whilst more prosaically slowing the route to the lifts.

The project is finished to an exacting standard, whilst robust enough to handle the 3.5million visitors the science museum attracts each year. Walls are subtly modelled in gypsum; the floating pod structure is precisely engineered and the precast concrete benches and new floor surfaces are seamless and refined.

This pioneering project has vastly increased visitor numbers to the Mathematics Gallery and is an exemplar project in how architecture can be central to successful curatorial development. The project is an important part of Zaha Hadid's legacy in London and the client should be commended for engaging ZHA as its designers.


Contractor Paragon
Structural Engineers Arup
Lighting Design Arup Lighting
Project Management Lendlease
Quantity Surveyor Gardiner & Theobald
M&E Engineers Arup
Internal Area 913 m²