​​New Cancer Centre at Guy's Hospital​
by Rogers Stirk Harbour + Partners and Stantec
Client Guy's and St Thomas' NHS Foundation Trust
Awards RIBA London Award 2017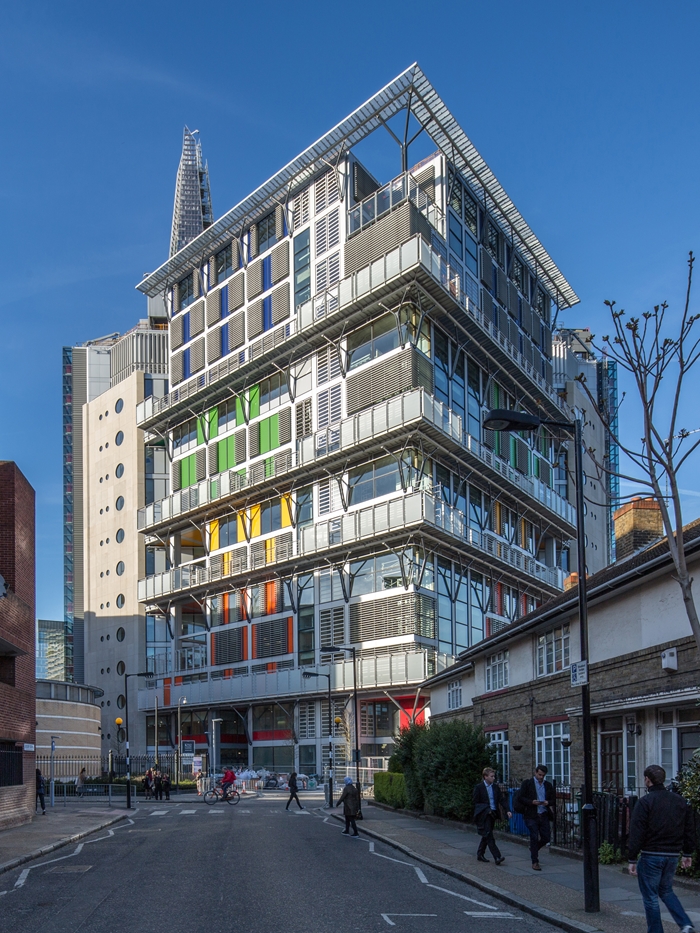 This commendable first NHS project by Rogers Stirk Harbour + Partners with specialist healthcare architect Stantec creates a very humane and welcoming, state-of-the art hospital for cancer patients at Guy's. A close and collaborative relationship between client, architect and contractor has resulted in a very sensitive design for patients.
A new system of 'vertical villages'; where functions of the hospital are clustered around double or triple-height mini-atria and colour-coded for ease of navigation; removes the necessity for the disorienting, labyrinthine corridors that are associated with many older NHS buildings. Large windows onto private balconies provide natural light and views into these central atria, which spills out into a variety of waiting areas. In addition to the larger central waiting areas, smaller pockets of space, private rooms and balconies are provided, where patients can find privacy in the event of bad news.

Huge attention has been paid to the experience of the patient such that the large scanning machines are placed on higher floors to prevent the feeling of descending into a deep basement. This move required some considerable engineering to support such heavy equipment.

This pioneering project demonstrates the enormous contribution that a brilliant architect can bring to hospital design and hope that it encourages the NHS to seek further, similar collaborations.


Contractor Laing O'Rourke
Structural Engineers Arup
M&E Engineers Arup
Quantity Surveyor Laing O'Rourke
Project Management Laing O'Rourke
Acoustic Engineers SRL
Landscape Engineers Gillespies
Internal Area 27,000 m²