​New Scotland Yard
by Allford Hall Monaghan Morris
Client Metropolitan Police Service
Awards RIBA London Award 2017 and RIBA National Award 2017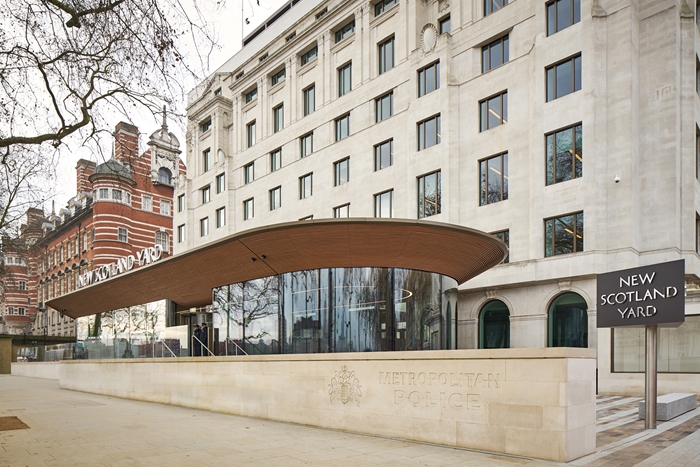 This project for the Metropolitan Police Service's new headquarters is a remodelling and extension of the historic, stone-clad Curtis Green Building on the Thames Embankment. Initially won in competition in 2013, the scheme was completed in January 2017, a notably fast timetable given the considerable security and logistical complexity of the project.

The core of the architect's brief was to create flexible and efficient office environments by extending the floor space beyond the footprint of the original building. It was also to make a landmark statement for the nationally important Met Police force.
The design has extended the building in every direction, with a beautiful curved glass and timber ground floor entrance pavilion, a modern rooftop additional floor and a new multi-storey rear extension. Despite these significant contemporary insertions, these new elements manage not to overwhelm the architecture of the historic building, nor indeed the neighbouring historic Whitehall buildings.

The great design skill and excellent judgement of the architect is evident throughout this project. The elegant, light and modern front extension pavilion is the most public sign of this: it is a confident and bold statement to demonstrate and connect the outside world with this public client. The entrance ramp and landscaping around the entrance is considered and well detailed. Furthermore, where the building has been extended in stone on its side elevation, this has been carried out with sympathy and originality, and without any reversion at all to pastiche.
Inside, the building's interior is quiet and functional. The most opulent design feature of the interior was in fact the reserved and finely designed glazed central lift core.

At the back of the building, the powerful, yet controlled new rear elevation is the most striking and audacious part of the project. The coloured fins, covering the entire multi-storey wall, could have been too much, too decisive, too strong a statement in this revered stone-clad context. Instead it is brilliant, balanced, comfortable and poised, exemplifying and underlining what a masterful conversion this project really is.


Contractor BAM
Space Planning Haverstock
Landscape Architects Gillespies
Project Management Arcadis
Structural Engineers Arup
Quantity Surveyor SuArcadis
MEP Engineer Arup / BAMSE
Planning Consultant DP9
Fire engineer Arup
Transport Consultant Arup
Daylighting ConsultantGordon Ingram Associates
Acoustic Engineers Arup
M&E Engineers Arup
Internal Area 9,225 m²