​New Studios, Wimbledon College of Arts
by Penoyre & Prasad
Client University of the Arts London
Awards RIBA London Award 2017 and RIBA London Sustainability Award 2017 - Sponsored by Geberit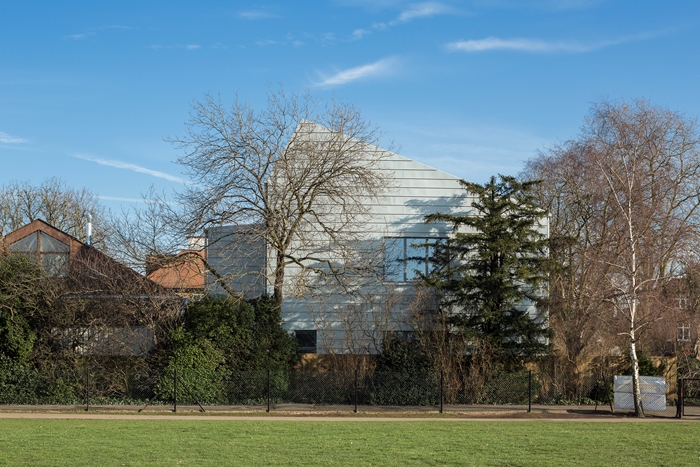 This metal-clad arts building; set in the existing mixed architectural context of Wimbledon College of Art and within a wider suburban Conservation Area; creates new creative arts learning spaces, whilst also achieving a BREEAM Outstanding sustainability rating. The new, two-storey studios are connected back into the campus with a new and simply designed canopied 'cloister', providing covered workspace, and creating a new external courtyard space.
Taking advantage of the site's orientation, the new building's shape maximises daylight, natural ventilation and night-time cooling. The asymmetrical gabled roof provides a large south-facing area for photovoltaic panels as the renewable energy source, with the smaller north-facing pitch maximising north-light for the studios. Internally, two large studio spaces are formed of uninterrupted single structural spans. They have ventilation, heating and lighting systems zoned, so that they can be sub-divided into self-sufficient parts in the future. These lofty rooms are linked with a minimal, workmanlike staircase at their rear.

The building was, unusually for this typology, detailed in accordance with Passivhaus standards, with exceptional air-tightness to minimise heat loss. A timber roof structure supports an exposed, precast concrete roof and floors, providing significant thermal mass using the minimum depth of concrete. Internally, the walls are lined with cement bonded particleboard to top-up thermal mass and provide easy-to-pin surfaces for showcasing artwork. Externally the building is wrapped in high-performance insulation and a lightweight zinc cladding.

This building's form and language is perfectly suited to its use: robust, almost rural, and unfussy. Inside it is hardy and functional and feels like it will last the college as highly useful, arts studio spaces for years to come. Implicitly wedded to this architecture is a construction centered on saving energy. This is so successful that the building is often 'energy-positive', producing more energy than it requires. The depth of commitment to this goal is admirable.

It is the architectural design that is most outstanding here: from the carefully composed elevations and the beautifully detailed cladding; to the main upstairs studio's wonderfully unexpected and engaging raftered structure. Stepping further away from the site into the surrounding streets, the greyish blue building sits comfortably and delightfully into its surroundings.


Contractor R Durtnell & Sons Ltd
Structural Engineers Webb Yates
M&E Engineers Clearsprings Energy Solutions
Quantity Surveyor Chinmans
BREEAM Consultant CarbonPlan
Internal Area 511 m²