​Sun Rain Room
by Tonkin Liu
Client Tonkin Liu
Awards RIBA London Award 2017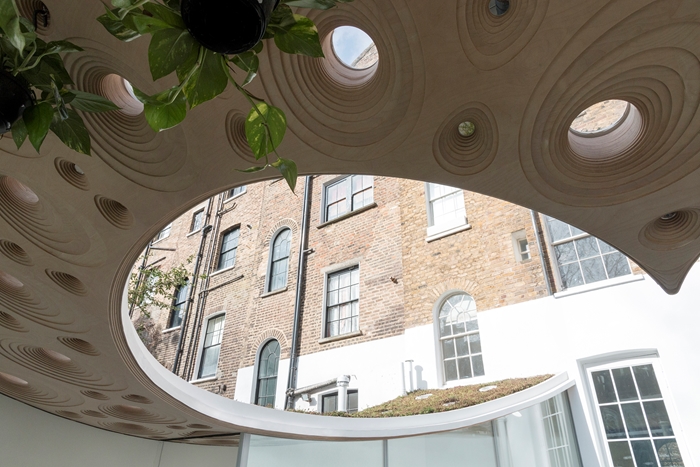 The Sun Rain Room is a two-storey extension and restoration of a Grade II Listed Georgian townhouse. The building as a whole provides both a studio for the practice and a home for the Partners of Tonkin Liu and their family.
This delightful small project demonstrated a sculptural sensitivity and complexity which made it a pleasure to experience. The rear extension works over two floors, with a small light-well, bridged by a glazed stair, allowing light into the new basement level accommodation. At street level, a sweeping roof with glazed walls to the garden and mirrored rear storage walls provides a social space for both the home and the studio. The form of the space, and planting to the roof and light-well, celebrate a connection to nature which compliments the formal character of the main house.

The jury admired the eccentricity of the proposal and the narrative supporting its concept. All the surface water from the roof is taken into a channel at the eaves of the new extension and discharges into a tank. When this water is released, it fills the black granite courtyard which becomes a reflecting pool, adding to the tricks of light and mirrored images running through the project as a whole.


Contractor Camden Carpenters
Structural Engineers Rodrigues Associates
Carpenter Jim Mustill
Internal Area 56 m²