​Tapestry Building
by Niall McLaughlin Architects with Weedon Partnership
Client Argent
Awards RIBA London Award 2017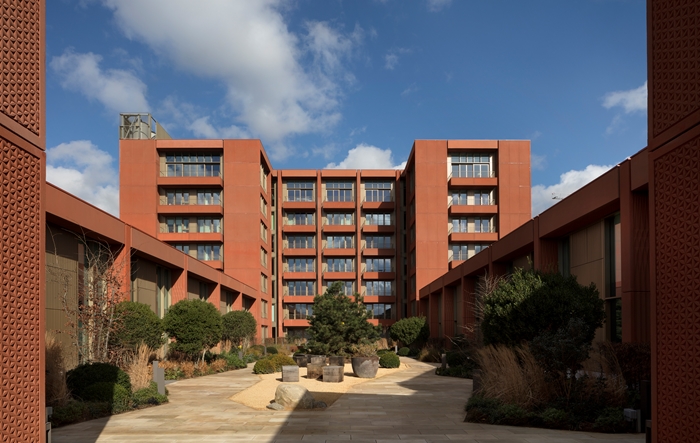 An exquisite, sculpted façade wraps around an intriguing combination of functions in this impressive mixed-use building, poised at the western edge of the Kings Cross development.
The unusual and complex brief includes an energy centre for the wider Kings Cross development scheme, a multi-use games area, café, restaurant, affordable and market housing. Coupled with the challenges of building above railway tunnels, adjacent to a railway line and canal; the architects have excelled in producing a refined, elegant and cohesive design.
The innovative façade is made of lightweight, glass-reinforced concrete panels, coloured in deep terracotta. Panels are set to provide articulation between deep vertical piers and horizontal elements, such as balconies and bay windows, spanning in between. The building is scribed with pattern that is adjusted in a hierarchy across the building to create a contemporary ornamentation.
Strongly connected to its surroundings through framing of views from apartments; a shared garden surrounded by contemporary townhouses and direct connection to the canal the building creates a haven for its dwellers. In the belly of the building, an energy centre, a huge carpark and a multi-use games area ensure this development is a nucleus for the surrounding community.


Contractor Kier Construction Limited
Structural Engineers Ramboll
M&E Engineers Waterman Building Services
Quantity Surveyor Gardiner & Theobald
Project Management Argent LLP
Acoustic Engineers Waterman Building Services
Landscape Architects Site Wide - Townshend Landscape Architects
Interior Design Johnson Naylor
Concrete Cladding Techrete
Glazing systems Glass Solutions
Landscape Architects Roof garden - Dan Pearson Studio
Internal Area 34813 m²