​The Bartlett School of Architecture
by Hawkins\Brown
Client UCL
Awards RIBA London Award 2017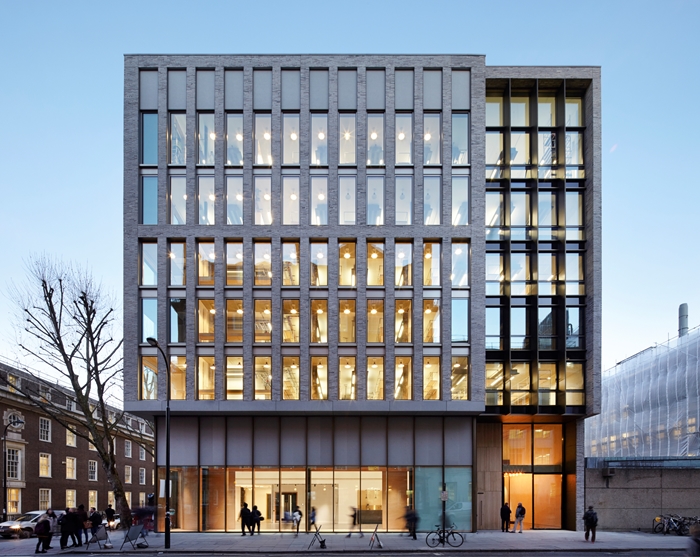 The building is located in the Bloomsbury Conservation Area and is a redevelopment of Wates House, which was designed in the early 1970's, to accommodate students and staff of The Bartlett School of Architecture, UCL. The new building was designed by stripping back the original structure, expanding the space and wrapping the building in a new skin; thereby more than doubling the usable area available to the school.
The jury felt that this was an extremely successful adaption and extension of the existing building to meet the complex requirements of the School of Architecture. The ability for the new school to provide a desk for each student was considered a major achievement. The breathing areas provided in the crit spaces, with folding screens and stair spaces connecting the departments, were seen as areas of great potential.

The jury felt that this was a building that would evolve with use and the capacity for that to happen had been successfully provided for. In specific locations, such as the stair handrail and elements of existing structure, the history of the building was revealed in a way that the jury enjoyed.

The provision of additional space outside the existing elevation was neatly and clearly expressed and also provided further, valuable accommodation. The elevation of the building provides a simple and unpretentious new enclosure, while identifying the significant internal spaces.

The dense fit out provides high level shelving for possessions and models, with an upstand at the back of the desk for sketches and images.

The general impression created was of an energetic and exciting place to work, with occasional generous corners in which to relax or study. The jury generally felt that this was an extremely successful reincarnation of the School of Architecture, with potential for students to take further ownership and engagement with the building in the future.


Contractor Gilbert Ash
Structural Engineers Curtins Consulting
MEP Consultant Buro Happold
Quantity Surveyor AECOM
Acoustic Consultant Buro Happold
Landscape Architects BD Landscape
Sustainability Consultant Expedition Engineering Ltd
Clerk of Works John Burke Associates
Planning Consultant Deloitte
Fire Engineer Buro Happold
Project Management Mace
Principal Design Advisor Turner & Townsend
Approved Building InspectorMLM
Internal Area 8,900 m²