​The Cooperage
by Chris Dyson Architects
Client Private
Awards RIBA London Award 2017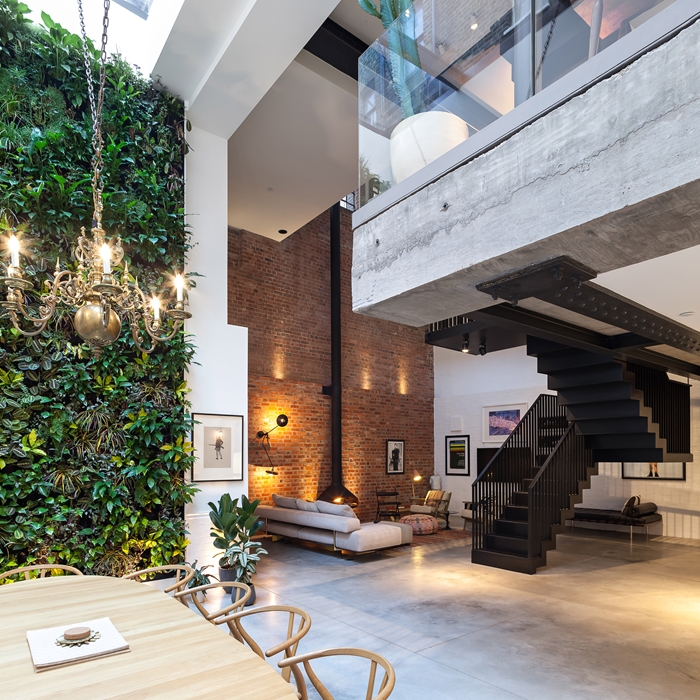 The Cooperage is an industrial building constructed in the early 1900's. It was converted to residential use in the 1990's but these renovations were unsympathetic and did not bring the interior space to its full potential. The architects worked to reveal the original character of the building, whilst providing the owners with a contemporary family home.
The interior of the building has been cut and crafted to allow light into the glass-roofed dining area, and dramatic volume into the triple-height living space. A simple stair links all the complex volumes, arriving at the ground floor level on a dramatic concrete landing, suspended within the open space below.

The architect had maximised the potential space available within a severely constrained site, with overlooking issues on all sides and light principally only available from above.

The jury was impressed by the obvious engagement of the family with the various spaces provided, including the large volumes for living, the well-considered bedroom layouts, and the various terraces providing views over the rooftops of the dense urban location.

The finishes of the building were excellent, with a combination of concrete, black steel, and exposed brickwork, providing clarity and architectural expression along with warmth and comfort.

Generally, the jury felt that this was a well-considered working of an existing building which successfully revealed elements of the original industrial character and set them off against elegantly detailed contemporary additions.


Contractor FMK Construction Ltd
Structural Engineers Stodart Associates
M&E Engineers Woodgate Building Services & Energy Consultants
Internal Area 490 m²