​Trafalgar Place - Elephant and Castle
by DRMM Architects
Client Lend Lease
Awards RIBA National Award 2016, RIBA London Award 2016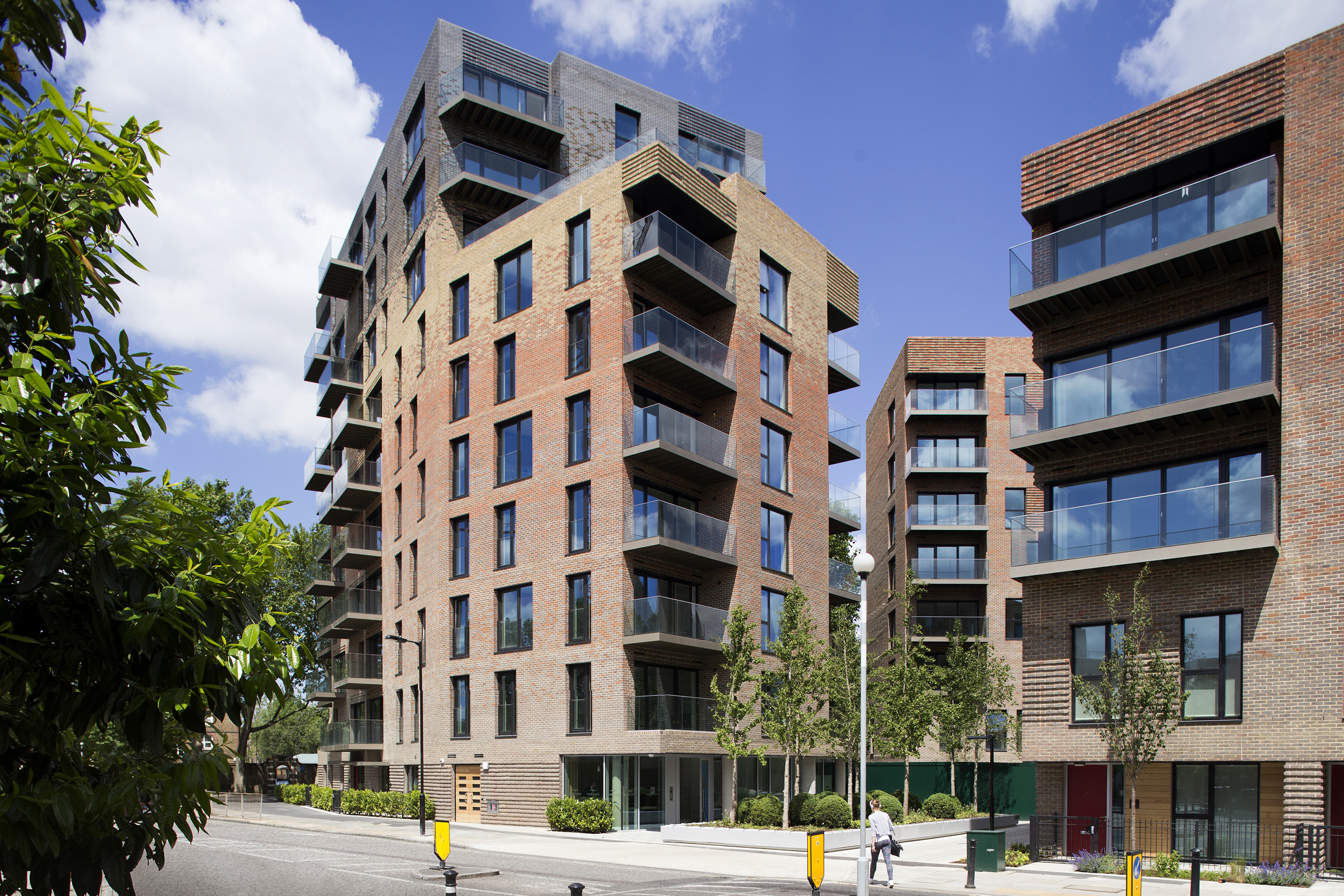 Trafalgar Place is the flagship housing project delivered as part of Lendlease's regeneration of Elephant and Castle. Comprising 235 high-quality homes, including 25% affordable housing, integrated within a vibrant landscape and mature trees, the project transforms the built environment whilst referencing the historic fabric of the neighbourhood.
This scheme has an outstanding site plan which connects the development to the surrounding context and local community. The public pedestrian path through the middle feels like genuine historic grain, is sympathetic to the buildings, and gives a natural permeability.

Public space is a key aspect of the project wherein the boundaries between the public realm and private development are blurred. It is a refreshing and successful change from the gated or insular housing community. The retention of mature trees on the site is highly effective, giving a level of delight and settled permanence rarely achievable in new housing, and leading the massing towards greater specificity

The delightful landscaping manages to achieve safety, defensible space and robustness, whist still feeling open relaxed and comfortable. It is excellent to see landscape carried through to completion with such conviction. The entrance up into the private space felt lovely - secure yet open, private yet public. All homes have either a garden, balcony or roof terrace.

Brick was selected as the principle façade material. In total, eight types of bricks are used, referencing the materiality of the neighbouring buildings. At junctions between varying brickwork colours, keyed-in corners refer to traditional brickworking methods whilst whimsically playing on proportion and scale. This clever use of brickwork, as well relating to context, gives the new buildings an identity of their own. The subtlety of the brick-work and brick detailing is both beautiful and playful. The quality achieved should be an example for future housing developments.
Contractor Lend Lease Construction
Structural Engineers Robert Bird Group
M&E Engineers Wallace Whittle / Tuv Sud
Fire Engineer Buro Happold
Project Management Lend Lease
Acoustic Engineers Sandy Brown Associates
Planning Consultant Dp9
Landscape Architects Grant Associates / Randle Siddley Associates
Arboricultural Consultant Treeworks
CDM Coordinator Lend Lease Consulting
Internal Area 16,660.6 m²