​Walmer Yard
by Peter Salter and Associates with Mole Architects and John Comparelli Architects
Client Private
Awards RIBA London Award 2017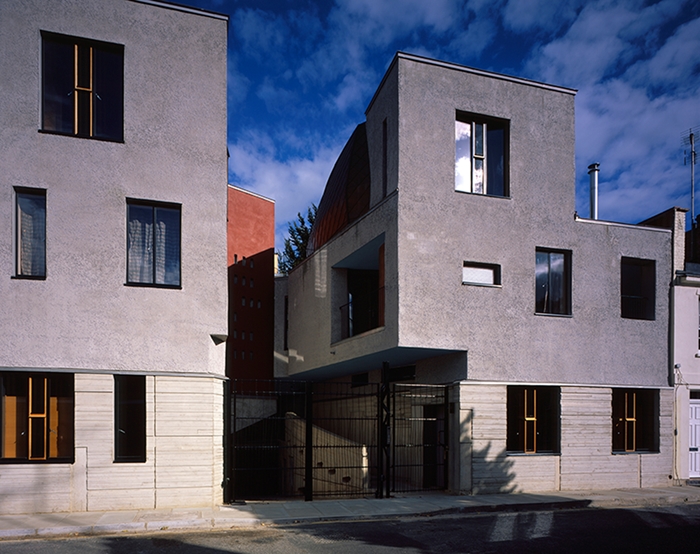 Walmer Yard is the first residential scheme in Britain by architectural designer and teacher, Peter Salter. Commissioned by developer Crispin Kelly and seven years in the making, the project consists of four individual, interlocking houses on the site of a former industrial building in Holland Park. Cast from in-situ concrete and structured around an elliptical stairwell; each of the houses sits around an intimate timber lined courtyard which is perceived as an interior room and raised from the street, above a basement parking level.
The structure and materials are skilfully employed to create a series of crafted rooms that are precisely tuned to the needs of domestic uses; whilst delicate faҫades offer a shifting relationship between the private realm of the interior and the communal spaces of courtyard. The restrictions of the small plot and necessity for close living has produced a highly intimate and atmospheric series of spaces; animated by skilful manipulation of plan and section, the ordering of materials and the control of natural light.

Peter Salter, through the support and trust of the client, has produced an original and intriguing ensemble of buildings, developed through the exploration of form, material juxtaposition, bespoke detailing techniques and the questioning of scale and adjacency. The project has extraordinary qualities as a work of experimental architecture, offering an ambitious alternative to contemporary models of habitation and dense urban living.


Contractor Shaw Building Group
Structural Engineers Parmarbrook
M&E Engineers Shaw Building Group
Approved Building Inspector MLMr
Internal Area 843.3 m²