​​25 Savile Row
by Piercy&Company

Client Derwent London
Awards RIBA London Award 2018 and RIBA National Award 2018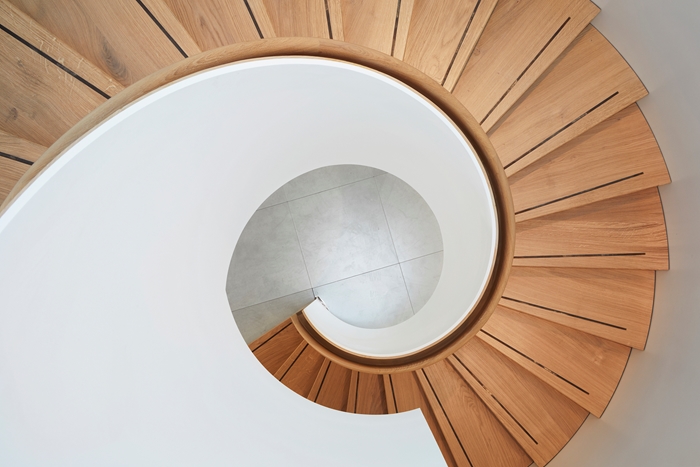 This refurbishment of an Art Deco office is an exquisitely executed project, from the first conceptual move to the finest point of detail.
The outline brief was to create additional space within a constrained site, in a way that was sympathetic to the building's heritage. For the fit-out, it was to reflect the developer/client's ethos of quality, while also promoting organisational collaboration. The result is a very beautifully crafted, light and elegant building, in which consistent care and thought have gone into every element throughout the briefing, design and construction processes.
The primary spatial move was to cut a three storey atrium in the middle of the plan, and to suspend within it the lightest of sculptural steel staircases. This has connected volumes of space across floors, with views through and across the whole building, creating a great sense of openness and lightness.
Careful consideration was given to the sustainability strategy for the building. The existing fabric was kept to reduce the overall embodied energy. The building had high levels of thermal mass, and low window to wall ratios. Where new spaces were constructed, such as a winter garden and new office penthouse, new walls and roofs have high levels of insulation and consequently high thermal performance. In addition, glazing was analysed using dynamic thermal models to confirm best g value and thermal performance. The building is generally mechanically ventilated with heat recovery, using a boiler with a 97% efficiency and a high performing VRV system.
Externally the white render and grid of black steel windows were reconditioned. Into this a beautifully detailed bronze framed entrance was set. The careful detailing is consistent throughout the interior, where, as well as bronze, the palette was limited to oak, leather, travertine and steel, with carefully planned juxtapositions between hard edged semi industrial elements and refined warmer materials. The characteristics of each is explored and exploited, such as a delicate scalloped detail to the oak lining A defining innovative feature was the exploration of digital craft and collaboration between client, architect and artisan. Intensive design and fabrication workshops were held with expert makers from the outset. This approach of bringing together cutting edge digital and traditional craftsmanship techniques has created a very beautiful building for the long term, which in an understated way enriches the cityscape in which it sits.
Internal area 5,700 m²

Contractor Knight Harwood
Project Management Blackburn&Co
Quantity Surveyor / Cost Consultant Exigere
Structural Engineers Akera Engineers
Environmental / M&E Engineers Hilson & Moran
Sustainability Consultant BREAAM Hilson & Moran
Sustainability Consultant SKA Grigoriou Interiors
Lighting Design Pritchard Themis