​Belvue School Woodland Classrooms
by Studio Weave
Client Belvue School
Awards RIBA London Award 2018 and RIBA London Client of the Year 2018 - Sponsored by Tobermore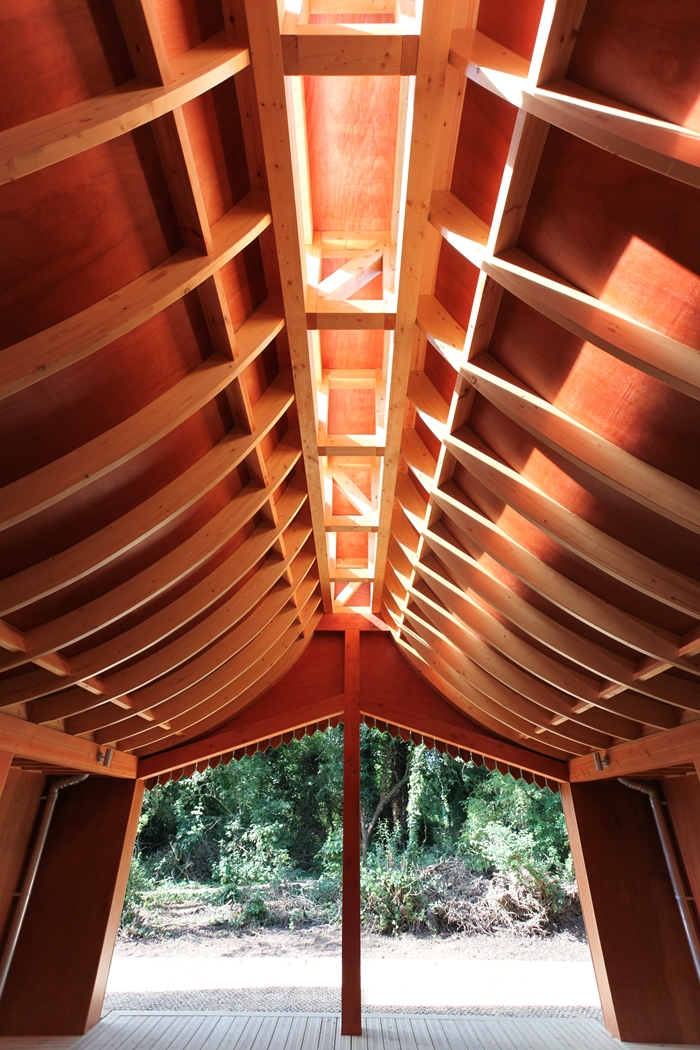 A beautiful special gem of a building, which reflects the success that the ambition, determination and talents of a client and architect working creatively together can achieve when they share a vision for creating a better world.
Belvue School is a secondary school for those with severe learning difficulties and a range of other needs. The school sits next to a small scrub of land with a few trees, shrubs and undergrowth. Although small in extent and hardly luxurious in planting, nonetheless it represented a glimpse of nature with which the pupils, who mainly live in blocks of flats nearby, were otherwise unfamiliar.
The school was to be allocated two Portakabins to meet its need for more space but the head-teacher decided that her pupils deserved better than that.
She realised that through design a much more imaginative solution could be found, that would provide a rich and stimulating learning environment for her students. To achieve this, she raised the money for the building independently and so the design direction was under her control and not hidebound by institutional limitations.
Her brief was to create 150 square metres of extra curriculum space, with a domestic quality and intimate scale. Studio Weave developed a collective narrative with the pupils, to open up imaginative ways of engaging with the outside.
Through a series of story writing and design workshops the boundary between the playground and wood was identified as the border between familiar school territory and the magical mysterious world beyond, with the new Woodland Classrooms acting as the gatehouse and gateway to this magic world.
The result is a wonderful, beautifully organised building, with an almost temple like quality. A central open, covered space frames the wood, exactly as a gate house should, but it also has a tent-like outdoor quality. Either side are two rooms: one cosy with a wood burning stove, the other fitted out as a kitchen and dining area to help students develop independent living skills.
The building has an exposed timber frame, and is lined in birch plywood. The roof is an extremely elegant series of three formed roofs, with clerestory lights, that illuminate its very beautiful profile, while also allowing a straightforward stack effect for natural ventilation. Every detail of this building has been carefully considered and crafted.
There are shelves for things students have made, cosy corners and student-made tiles as a splash-back to the sink. Every effort was made to involve the students, to the extent that health and safety regulations would allow.
This building is a labour of love, which sits lightly on the ground. It is naturally ventilated, thoughtfully orientated to maximise sunlight and avoid overheating, fully wheelchair accessible and all the timber is from reliably renewable sources.
The playfulness and ingenuity of this design are apparent at every turn, epitomised by the unique weathervane on the rooftop, twisting in the wind. Every school should have a retreat like this where students can go to connect with nature and be themselves, and at less than £250,000, they can probably all afford it.
Internal area 93 m²

Contractor IMS Building Solutions
Structural Engineers Timberwright
Quantity Surveyor / Cost Consultant Jackson Coles
Environmental / M&E Engineers Arup
Project Management Jackson Coles
Principal Designer Jackson Coles