​Black Stone House
by 6a Architects
Client Black Stone House
Awards RIBA London Award 2018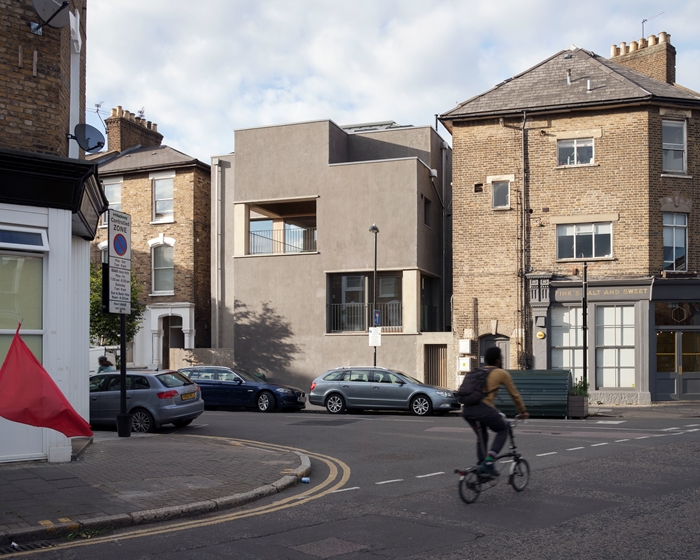 Seen from the street, Black Stone House is an unusual and irregular stacked block where traditional materials, such as lime, sand and ash render, have been hand worked to reveal a slate aggregate, its black flecks giving texture to the abstract façade.
Inside a complex unfolding of spaces that result in three apartments nestled tightly into this irregular corner plot in North London. Spatially, all three homes have interesting and complex compositions of outdoor/indoor spaces that artfully manage privacy and bring daylight deep into the plan. Although spatially individual, the three apartments share common themes, variations of which play out over all four floors. Loggias and terraces form external rooms and large sliding windows allow a diverse array of views – of sky and garden, wider vistas of North London and street scenes below.
The concrete frame and slabs are the raw canvas on which lime-slurried walls, Douglas-fir plywood and ceramics add informal texture and warmth. There is an honesty and tactility in the materials and structure, with exquisite detailing throughout each home. The extensive material research undertaken by the practice has ensured Black Stone embodies a strong yet delicate nature of design.
Internal area 359 m²

Contractor John Perkins Projects Limited
Structural Engineers Price and Myers
Environmental / M&E Engineers Max Fordham