Bridge Theatre​
by Haworth Tompkins
Client London Theatre Company
Awards RIBA London Award 2018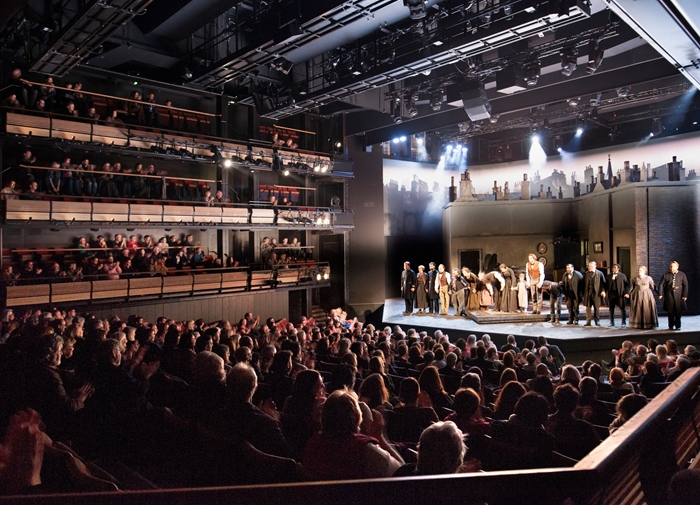 The Bridge Theatre is London's first commercial theatre of scale for 80 years. Using innovative prefabrication techniques, the 900-1000 seat flexible auditorium is a collaboration between the architects, specialist manufacturer Tait Stage Technologies and client, London Theatre Company.

The 'as found' site comprised a shell and core, designed without a final use being established. It was a big challenge to fit a theatre in this existing space under a housing development, with minimal access to the site. The design had to work hard to incorporate existing columns coming down in locations which were not ideal.

The auditorium is ground-breaking both in design and construction, and in theatrical staging flexibility.

Built off site in Norfolk, it was designed, trail erected for client review, and delivered to site fully integrated with ventilation, sound, lighting and AV infrastructure and architectural finishes.

The auditorium material palette is simple but warm with dark brown/black painted steel for the main structure, natural oak slats for the tier fronts, black recycled rubber flooring and a rich burnt orange woollen cloth and tan leather upholstery.

The acoustic quality in the entrance foyer was quiet, surprising for a large open space with a bar. The use of felt in the ceiling void for acoustic treatment and to hide services is attractive and inventive.

The theatre design allows for multiple configurations of stage and seating. With no fly-tower the theatre has a dynamic moveable floor system which was invented and developed during this project.

The new venue brings an excitement to an area predominantly filled with office buildings and housing developments. This projects provides activity after work hours for both the public and theatre-goers alike.

This was a challenging project that was accomplished by a collaboration of experts who inventively resolved obstacles to produce a successful intimate new theatre.

Internal area 3,673 m²

Contractor Rise Contracts Limited

Project Management Plann Limited
Structural Engineers Momentum Engineering
Environmental / M&E Engineers Skelly & Couch Ltd
Acoustic Engineers Gillieron Scott Acoustic Design
Quantity Surveyor / Cost Consultant Bristow Johnson
Fire Engineers Trenton Fire
Technical Design Manufacturers Tait Stage Technologies Ltd