​​Chadwick Hall
by Henley Halebrown
Client University of Roehampton
Awards RIBA London Award 2018 and RIBA National Award 2018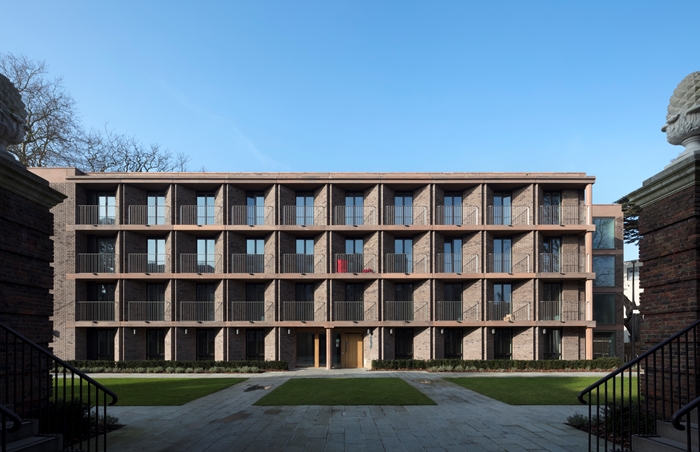 The scheme is set in the grounds of the Georgian grade II* listed Downshire House which itself borders on the LCC's Alton West Estate (grade II* listed).
The brief sought 210 en-suite student bedrooms. These are provided in three new buildings. Each employs a distinct plan type - two are villas, the third a Modernist pinwheel plan. Two are paired around an existing historic sunken garden. The third lies on an axis with the sunken garden to the south of Downshire House, completing an ensemble with the House that creates a theatre for the students' social life.
This is a good example of timeless architecture. It is inspiring while remaining simple. The scheme's success is also based on a skilful master plan with sensitive arrangement of the blocks within the landscape, existing listed building and the restored sunken garden. The concept is a nod both to Georgian architecture as well as to a Modernist block of flats to the Northwest boundary of the site. The design becomes a backdrop for the listed building and the sunken garden. It gives them the importance and provides a setting for social gathering.
The main materials are limited to a dark red brown brick and precast concrete, with a darker red brick which both relates to the listed building and yet remains subservient.
The tall windows in all the blocks are for the bedrooms with wider ones for communal areas The only exception is the large bay window which attempts to responds to the bay window of the listed building.
The low cost of the building is not at all reflected in the external appearance of the scheme.
The panel felt that the architects managed to create a welcoming and calm space by careful master planning responding in turn to the street and the listed building structures as well as the wider landscape and the modernist building to the perimeter of the site.
Internal area 6,365 m²
Contractor Morgan Sindall
Structural Engineer (post-contract) Campbell Reith
Structural Engineer (planning submission and pre-contract) BuroHappold

Environmental / M&E Engineers Skelly & Couch
Landscape Architects Gross Max
Project Management Gardiner & Theobald LLP
Planning Consultant Boyer Planning
Heritage Consultant Steven Bee Urban Counsel