​​Dartmouth Park House
by AY Architects
Client Private Client
Awards RIBA London Award 2018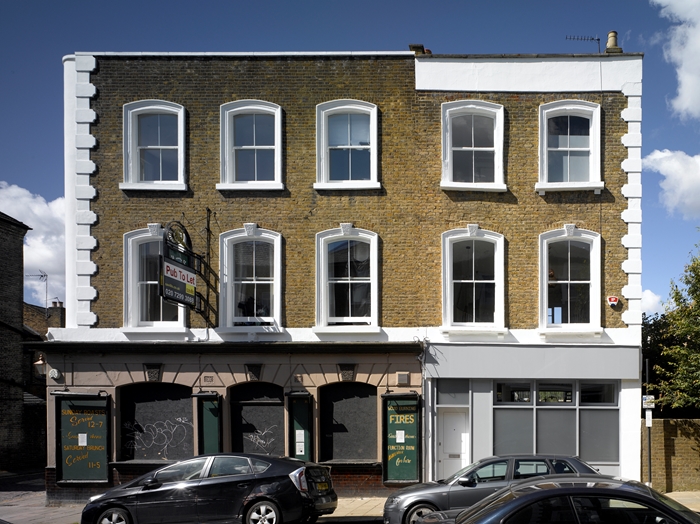 Beginning as a modest conversion of an over-developed Victorian terraced house the project became an ambitious redevelopment of the entire building. By reflecting the client's personal travels and interests, AY Architect Partners have created an unusual and exotic home.
The process of opening up the building to let in daylight has created a series of light airy spaces linked by a courtyard, staircases and terrace. A 9 metre high, 3-floor void is a spectacular intervention containing a white-steel and mahogany staircase with crafted balustrade, extending from the basement to the second floor in a series of straight flights, curves and bridges.
The ground floor has mahogany shelves and bespoke furniture, which fit well with the reclaimed oak parquet floor and leads to the timber-floored internal courtyard. This connecting space acts as an outdoor room with a centrally placed tree fern providing shade. The guest bedroom and bathroom extension on the opposite side of the courtyard is given privacy by the use of structural hardwood screens which were prefabricated, partially assembled and shipped from Nicaragua (a connection from the clients' travels) giving a warm and consistent timber finish and unifying both internal and external areas of the house.
The upstairs terrace, with views of neighboring gardens, sits above the guest bedroom and is linked by the main staircase to the house and circles around the courtyard to a staircase to the kitchen. On the 2nd floor the walls and ceiling of the master bathroom are stripped back to reveal the original brick and timber of the building and is lit by a skylight. Lastly the basement office has a light well from the courtyard and a walk in shower, which is beautifully finished in stone.
From the street the former shop front is discreetly painted grey with smoked glass concealing the theatricality of the interior. It is a very successful reinvention of the Victorian house.
Internal Area 216 m²

Contractor Re-structure JC Ltd

Structural Engineers Price & Myers
Quantity Surveyor / Cost Consultant Stockdale Ltd