Flexible House
by Amin Taha + Groupwork
Client Private
Awards RIBA London Award 2018 and RIBA National Award 2018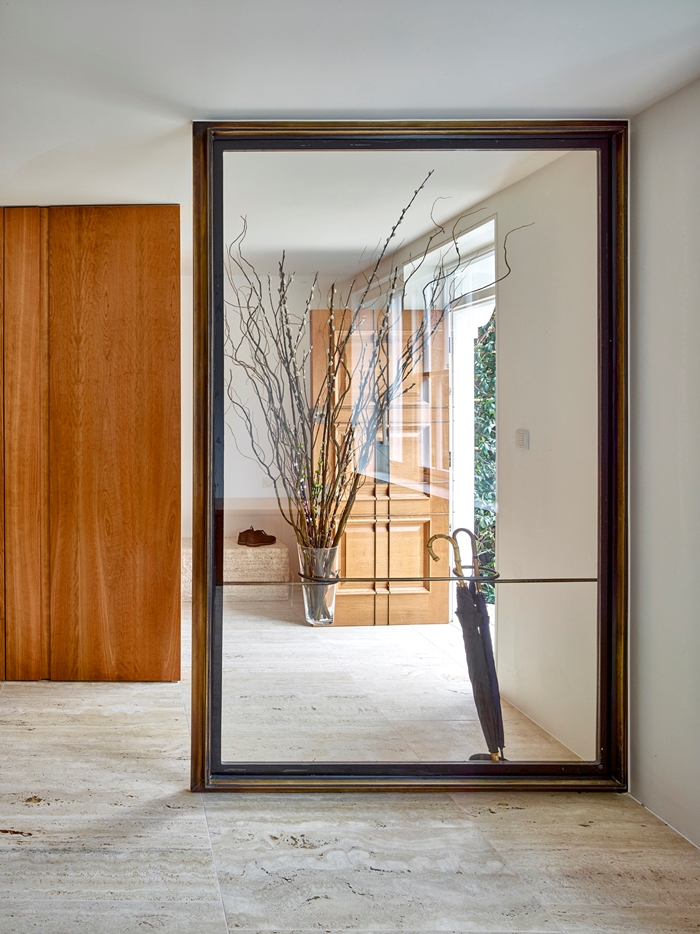 To experience the best in the craft of architecture one doesn't have to much look further than Scarpa and Mies, on entry into this refurbishment of a suburban home the metalwork cut meticulously into the front door reminds any architect of both masters. It is an association that the architect of this jewel in West London is more than happy to proclaim and accept.

Designed around the clients use of the building and the possibilities in plan and section the resulting three dimensional space moulded from a love of material is evident wherever one pushes, pulls, looks or moves. If serious architecture can be fun; this is the house that proves it.
In such a small and unassuming shell the architect has created a flexible home on all levels, with hinged cabinetry and walk through bathrooms,the experience of living in this carved out cave will be delightful.
Everywhere you tread, this building is more than the sum of its parts.
The extension to the rear offers a place to sit, work or dine whilst allowing light into the basement. The structure of this bench and extension is thermally broken through a bespoke metalwork crosshair of angles that also supports the elegant arm upon which the light fittings below are tethered. They move too.
Residential balustrades will never be looked at the same again. An elegant cobweb of wire threads through the gravitas of a structurally independent beautiful stone stair and defines the aperture to allow in light at roof level and dissipates as the stair alights at lower ground.
Need a fire escape from here? Why not make it a wine cellar so you can grab a drink on the way out?
In its playfulness of use but also in its love of material and detail this is an architecture of significant ambition. Stone is used in multiple textures, under foot, and overhead and concrete is textured to match, bringing a continuous yet rich feel from top to bottom of this 300m2 home. It's like living in a medieval stone workshop.
A home designed around the clients needs, the architects love of material and their ability to manipulate space has delivered what can only be described as a tour de force, the intelligent humour and confidence of this building is infectious...and it makes you smile.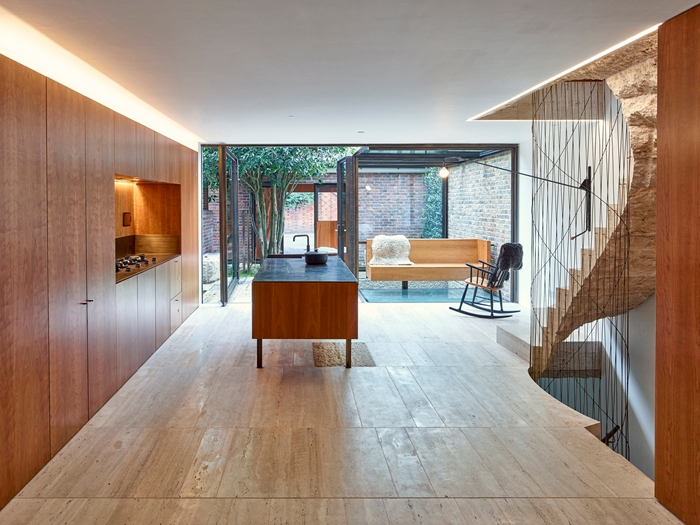 Internal area 300 m²
Contractor London Basement
Structural Engineers Webb Yates Engineers
Environmental / M&E Engineers MLM
Quantity Surveyor / Cost Consultant Jackson Coles
Metalworkers Eastnor Ltd
Stone Masons Ateliers Romeo