​Gin Distillery
by Open Practice Architecture
Client Private Client
Awards RIBA London Award 2018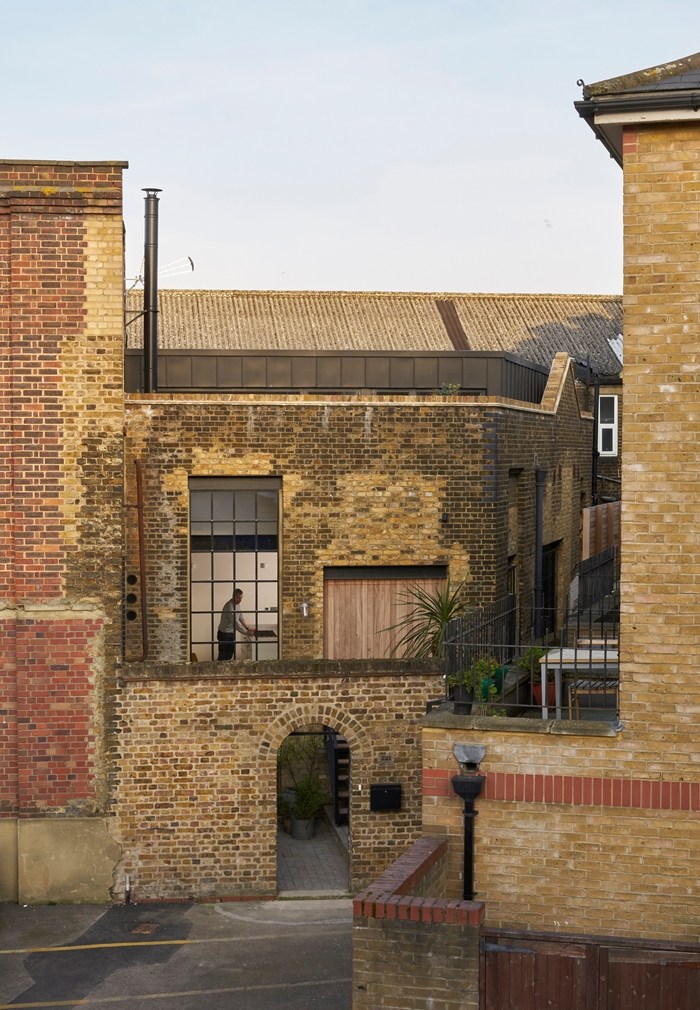 Located in the corner of a non descript carpark off the backstreets of Whitechapel, the Gin Distillery is a wonderful example of exemplary contemporary architecture patched together with considered heritage reclamation and restoration. A project of palimpsests with the richness of the original Victorian building complimented by the quality of the contemporary interventions.
Having purchased a derelict former Gin Distillery building abutting other Victorian brewery buildings, the brave architect and braver family proceeded to transform it into their family home located in the most unexpected corner of E1.
We couldn't find the address initially, assuming the carpark surrounded by Victorian industrial buildings and estate back sides couldn't possibly be the site for this spectacular project.
Tucked in the corner of the carpark, with only the comings and goings of a bakery for direct neighbourly activity, the project sits discreetly between the taller brewery building it abuts and the rear residential elevation facing the site, presenting light and privacy challenges.
The chunky brick walls of the original building are retained along with the raised ground floor level, and front wall with arched gateway. The decision to retain the industrial sheet metal security gate reflects a reluctance for domestic tweeness, respect for the real history of the building, and a reflection of the project's interface with the back street car park and Whitechapel wild-west.
A respect for the original proportions and locations of windows, some blocked and patched over time, is evident, and the happiness to allow the history and scars of the building to be retained and celebrated is apparent.
Within the patched, repaired and part reinstated brick shell, a series of spaces have been introduced with a clear hierarchy of space and grandeur, but without the smaller more intimate spaces feeling forgotten or left over.
The rooms and spaces in between (including a sun trap terrace and 'outlook only' plant pot roof deck) connect gracefully with the circulation spaces and bathrooms events in themselves that you would be happy to spend time in.
Being the architect's own house, they have managed to avoid the pitfall of cramming every idea into one project inadvertently creating a cluttered architectural ideas board. Instead, a very calm collection of simple but high quality materials, finishes and gestures sit comfortably together, accentuating the intricacy and depth of the original material.
The Architect's handling of light, space, views and height is excellent. The attention to detail is evident without being overcomplicated or fussy, and the finish and execution by the builder is exemplary.
Internal Area 133 m²
Contractor Evoke Projects Ltd
Structural Engineers Constructure
Environmental / M&E Engineers Progetic Environmental Engineers
Building Control Approved Inspectors Prime Construction