​Ivydale Primary School
by Hawkins\Brown
Client The London Borough of Southwark
Awards RIBA London Award 2018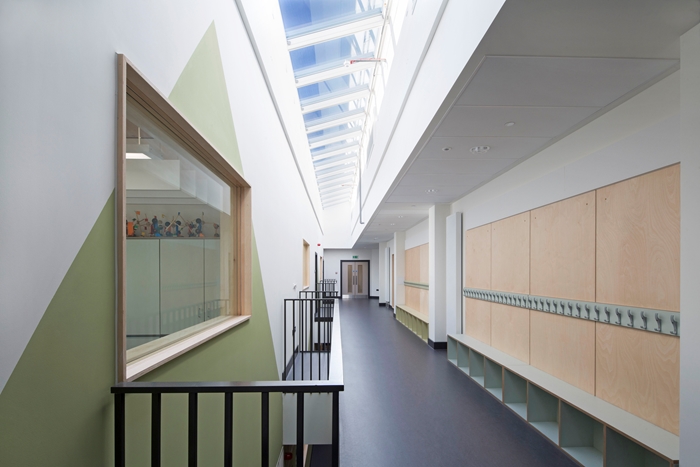 This new building doubles the school's existing capacity to accommodate key stage two children in a four form entry primary school. The new school sits nearby the existing Victorian school building yet still feels part of the same school.
The strong distinctive graphic and colour scheme on the front facade continues within. This colour palette is calming and welcoming, while providing students with a more 'grown up' feel as a stepping stone to secondary school.
The entrance to the school over a zebra crossing is large, secure and works well for visiting classes of thirty children from the existing Victorian building. They enter into a large circulation room with a staircase leading up to the first floor. This space doubles up as another hall space for whole school assemblies with the stairs used as tiered seating.
The plan of this new school works very well and is easy to navigate for students, staff and visitors. A large school hall is at the heart of the school.
The large hall can be divided into two rooms with a sliding wall or used as one large space. Large shop window panes are used to see into the hall on all four sides from circulation spaces. The school eats lunch in the hall with the canteen adjacent. The small touches of the head teacher, for instance asking that a metal grille not be used to cover the canteen hatch to avoid the noise when a ball in P.E. hits the grille, working with the architect that has made this school design function better.
Each classroom is a good size with plenty of light flooding from two sides that can be reduced with blinds on all windows. By each classroom window there is a reading nook providing a cosy space for a student or two to sit, read and ponder. Large shop windows ineach classrooms in the circulation spaces make the rooms feel less enclosed so students do not feel trapped in one room.
Circulation spaces are light with roof lights and voids on the first floor down to ground floor allowing for connectivity and an open friendly feel.
The playground is part of the design including different play zones of a woodland garden and a wide range of play equipment. Each ground floor classrooms have an 'out door' classroom.
This characterful and delightful building is the result of the team work and great working relationship between the whole team. The head teacher, architect and Southwark Council all engaged and invested in the project.
Internal Area 2,695 m²

Contractor Galliford Try (Southern) Ltd

Structural Engineer Elliott Wood Partnership Ltd
Environmental / M&E Engineers Max Fordham LLP
Quantity Surveyor / Cost Consultant The Keegans Group
Project Management Mace Group Ltd
Acoustic Engineer Bureau Veritas UK Ltd
Landscape Architect BD Landscape Architects
CLT Subcontractor and Structural Engineer KLH UK Ltd
MEP Subcontractor Lorne Stewart Plc
MEP Subconsultant Pope Consulting Ltd