​​Kings Crescent Estate Phases 1 and 2
by Karakusevic Carson Architects and Henley Halebrown
Client The London Borough of Hackney
Awards RIBA London Award 2018 and RIBA National Award 2018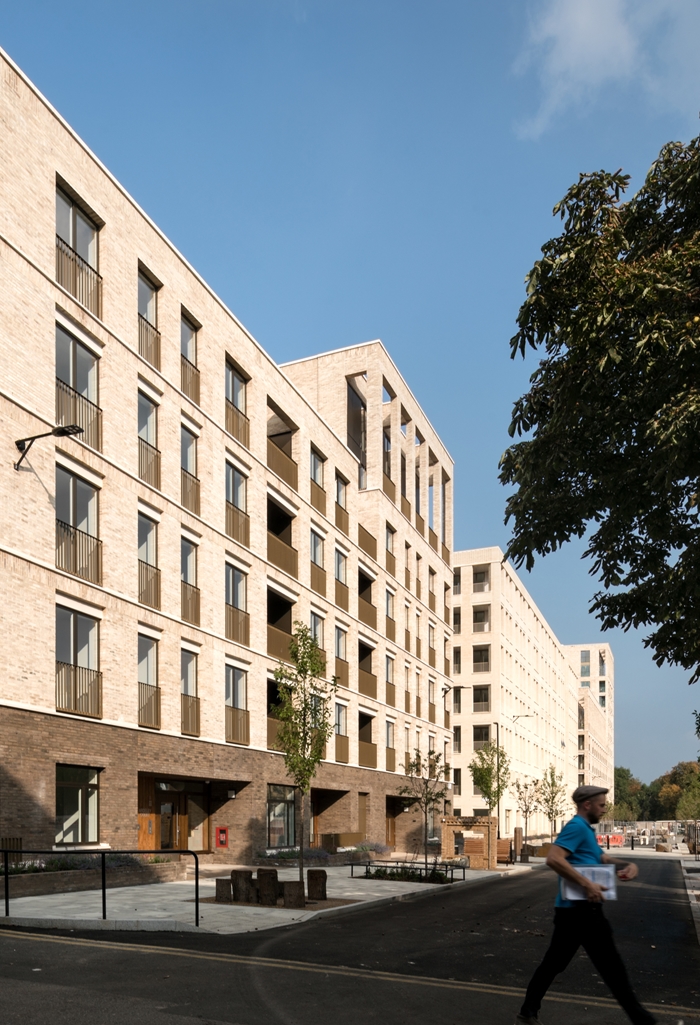 The original Kings Cross Estate had been half demolished in 2000 and the remaining community have lived with the resulting wasteland until now. Instead of the usual demolition and rebuild model for large–scale estate regeneration, this project shows that community combined with local authority-led development can be a way forward to create a robust model for new and refurbished housing.
By upgrading the existing housing with large balconies, winter gardens and garages converted into new flats, the existing residents were very much engaged with the estate development, which allowed them to remain in their homes throughout the works. The master plan created new connections and permeable spaces: 3 courtyards with very different emphasises from contemplation to play and a gardening club; an intelligently furnished play street helps community integration creating a new public space.
Two architectural practices, Karakusevic Carson Architects and Henley Halebrown, working closely together has successfully allowed more variety in the build. This project results from a strong collaboration between the client, the London Borough of Hackney, and the architects, and acts as an example of what can be achieved in future developments within the borough and beyond.
The three new brick-clad blocks vary in height from 5-12 storeys interacting well with the park and local streets creating a family of buildings. Brick, concrete steel and timber provide a simple palette for the estate. The brickwork contains subtle art deco detailing while timber is used on the balconies and in the generous lobbies. The dual aspect entrances are light and airy allowing views through to courtyards and shared amenities giving a sense of delight and intrigue. The hardwood timber framed shop fronts sit well at street level.
A well considered residential scheme that has repaired the previously desolate areas and helped to form a sense of community and ownership. A tenure-blind scheme reconnects the estate to the outside world and engaged the residents throughout the transformation of their estate.
Internal area 24,800 m²

Contractor Higgins Construction Plc

Structural Engineers Peter Brett Associates
Landscape Architects muf architecture/art
Services Engineer Peter Brett Associates