​​Kingsgate Primary Lower School
by Maccreanor Lavington Architects
Client London Borough of Camden
Awards RIBA London Award 2018 and RIBA National Award 2018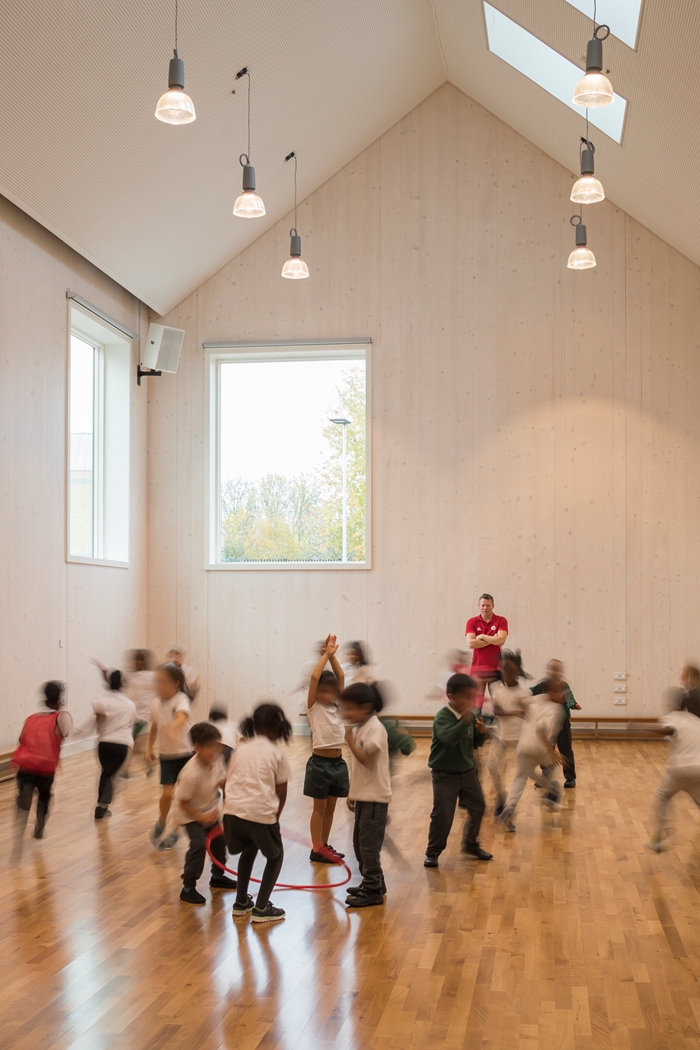 Part of a mixed use masterplan for this former industrial estate in West Hampstead, Kingsgate Primary School demonstrates a strong collaboration between architect and client to create a surprisingly generous inner-city school.
The school together with a new public space is significantly set back from the street, providing an intelligent urban design solution for parents to drop-off/ pick-up without causing congestion on the residential street.
The public space also opens up a new connection to the neighbouring park, which was once a dead-end and under utilised green space.
The large covered entrance to the school offers glimpses into the playground while providing a protected environment for the children.
The distinct roofline of the saw-toothed and double-pitched roofs pays homage to the industrial past. This is also picked up in the children's drawings of the school. It also helps to bring excellent levels of daylight through the north clerestory windows into the teaching spaces, offering a spatial and serene quality throughout the school.
The arrangement of classes and circulation encourages the children to move through open spaces and connection to the outdoors is framed at every turn with generous windows.
The robust, lightly stained timber surfaces and panelled walls conceal storage spaces and a careful layout of lobby areas for cloaks and storage also buffer the space between the ground floor classrooms and the outdoor play space in the colder periods.
In amalgamating circulation with breakout spaces, the architect has strived to make them work hard and in many different ways without compromising calmness.
The grand assembly hall impressed is impressive and reminiscent of the scale of a Victorian school hall with its huge volume and pitched roof. However, this is much warmer and far better acoustically! It is flexible and can be divided and used as a dining and sports hall with plenty of integrated storage space for equipment to be tidied away.
Kingsgate makes successful use of the site, within a carefully considered masterplan that addressed the adjacent railway line and benefits from a southern aspect, creating a 'connected' public space.
Owing to this careful layout of the site, the flexibility of key spaces in the school with the wider community use has a real chance of success. Above all, a laudable procurement of the school design tailored to the client's vision and pupil's needs where one senses the children attending this school are off to an exceptional start in education.
Internal Area 2,573 m²
Contractor Graham Construction
Structural Engineers Price & Myers
Environmental / M&E Engineers Atelier Ten
Landscape Architects Jonathan Cook Landscape Architects
Acoustic Engineers Gillieron Scott Acoustic Design
Planning Consultant Tibbalds Planning and Urban Design
Transport Consultant Alan Baxter Associates
Ecology Consultant The Ecology Consultancy
Arboricultural Consultant Raphael Skeratt