​​Marlborough Primary School
by Dixon Jones
Client The Royal Borough of Kensington & Chelsea
Awards RIBA London Award 2018 and RIBA National Award 2018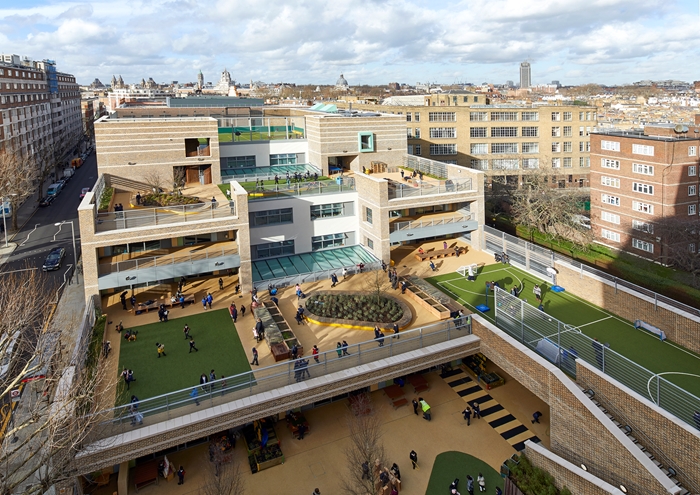 The community created in school buildings is paramount to the educational outcome of the children that attend. Marlborough primary school formed through a convoluted planning negotiation transforms an urban site into a series of terraces that wonderfully defines a school culture centred around day lit space and external play space.
A complex diagram in plan and section the school teaching spaces surround places of congregation, linked to a central stair arrangement and joining bridge. Orientation and connections are carefully orchestrated around the activities of the building to ensure the daily life of both teacher and student are enhanced.
Entry and security are handled with care, students enjoying a vertical external journey to their classrooms in the morning and visitors welcomed at the opposite corner with close access to the main vertical circulation core.
A series of levels and variable screens offer the ability to make communal spaces for different scales of event and steps and an internal ramp offer a place to rest and a dynamic experience throughout the centre of the plan.
Circulation routes are kept short and active with shared learning spaces creating a happy hierarchy of places for learning with views to the outside. Long views prevent an institutionalised feel and create variety in a school day.
Year groups are cleverly separated by level, pupils quite literally rise through the school with varying treatments to their external spaces which face south east, culminating in a MUGA on the roof that is enjoyed by other users out of hours leading to welcome wider community engagement.
Externally the school creates important permeability through the site with its adjacency to a commercial building by the same architect.
The heavy context of brick buildings is mimicked by this piece of architecture, however with a deftness of touch the elevations are treated with a fresh colour and geometric openings that subtly suggest the different use inside.
The impressive sectional diagram and solid detailing of this school creates an impressive new urban block, linking the school to the city whilst providing a terraced place of learning that is readable, fresh and distinctive. A school that will encourage pupils to play, learn and achieve.
Internal Area 4,905 m²

Contractor Mace
Structural Engineers Waterman Structures Ltd
Environmental / M&E Engineers Arup
Project Management Lend Lease Consulting
Acoustic Engineers Sandy Brown
Landscape Architects Macgregor Smith
Access Consultant David Bonnett Associates
Quantity Surveyor / Cost Consultant Gleeds
Fire Engineering Exova Warringtonfire
BREEAM Consultant ADP Architecture Ltd