​No1 New Oxford Street
by Orms
Client
Awards RIBA London Award 2018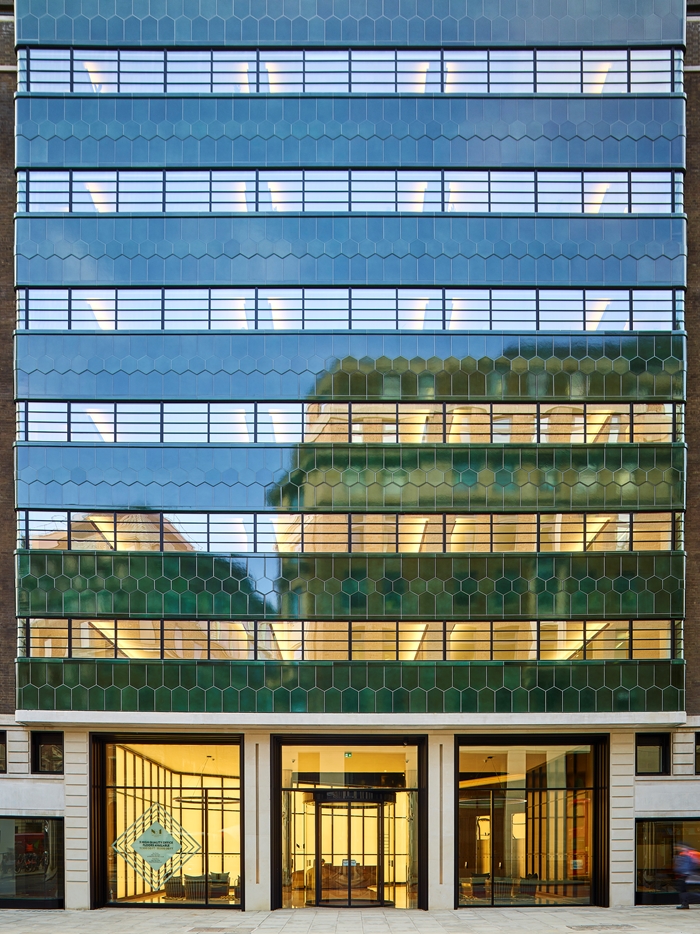 This is a very handsome refurbishment of a 1930s triangular shaped plan building, with major alterations and extensions made in the spirit of the original. Orms very carefully researched the original design and attuned their proposals to the aesthetic of the Art Deco and Art Moderne of the period, in a dynamic contemporary way. The top two floors of the building have been rebuilt and a 9th floor added. This alteration sits very comfortably with the original building.
It is impossible to see a differentiation between the old and new, as the whole facade has been meticulously tinted to match; and new stonework has been stitched in with great care. Throughout the project the architects, in deference to the original spirit of the building and the care with which they have approached its renovation, have gone far beyond what would normally, be expected in a commercial redevelopment.
The original building turned the corner between New Oxford Street and High Holborn with a visually delicate landmark. This has now been clad to its advantage, in beautiful green hexagonal tiles as the original architect intended but was not permitted to do, by the then advisor to the Crown, Giles Gilbert Scott.
The tiles for the re-clad were sourced from Pyrolave in France, as originally intended. Other details, such as curved glass street frontages and a double height entrance space, continue the theme and provide a very engaging streetscape.
The building has been reorganised to good effect, with the entrance moved from the corner to New Oxford Street. It leads into a newly formed atrium which steps dramatically inwards through the building. The atrium also helps define the upper floor plates, giving them a good scale in relation to natural lighting.
The unique character of the external detailing is taken inside and is consistently of exceptional quality throughout the building, in a palette of soulus ceramics, stone, brass, dark stained timber and ribbed glass.
Very great care has been taken in detailing floors and ceilings in office areas to maximise height despite very tight floor to floor dimensions and a delightful carefully designed rooftop garden has been created, with wonderful views of London's skyline.
The building has an excellent BREEAM rating with much of the original structure and fabric as possible retained. Existing windows were replaced and the three new floors constructed using modern methods with wall to glass ratios carefully calculated to balance the needs of daylight and energy performance. All materials were responsibly sourced and the client's high sustainability standards achieved.
Internal area 10,000 m²
Contractor Mace
Structural Engineers AKT II
Environmental / M&E Engineers Long and Partners
Project Management Arcadis
Quantity Surveyor / Cost Consultant Arcadis
Lighting Design EQ2Light