​Red House
by 31/44 Architects
Client Arrant Land
Awards RIBA London Award 2018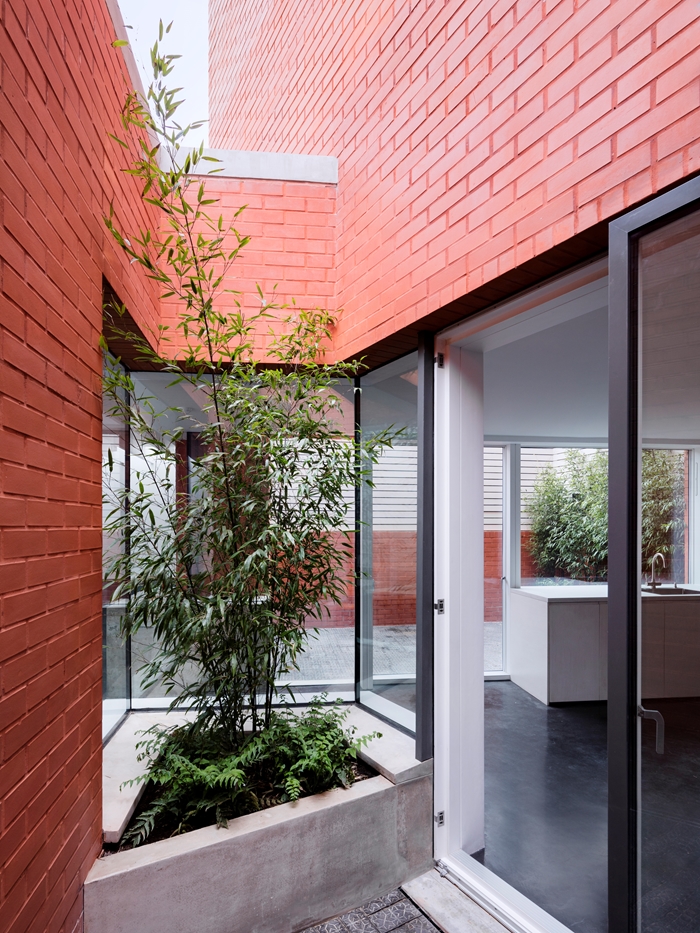 A new-build home which is an assertive piece of architecture, justly confident of its place in the street without being disrespectful, and sharing something of the spirit, solidity, and decoration of the Victorian surroundings without veering towards any kind of artificiality.
The scheme matches the size, scale and character of the surrounding two-storey dwellings, while providing a 137 square metre split-level three-storey contemporary home. The site the architects had to work with was awkward in shape and levels and they had to deal with the challenge of privacy and avoiding overlooking neighbours. Yet they have excelled in dealing with each using the position of the chimney and location.
As the end of the terrace the site is a unusal shape with an imposed kink in the road and angled flank of the adjacent house. The architects have inventively carved into the space a series of intimately angled living spaces sprinkled with small glazed courtyards, drawing light and ventilation deep into the low level kitchen, dining and living spaces.
These 'pushed and pulled' series of visually connected spaces resolves the complex geometrical challenge creating a homely space.
A timber stair, which greets you at the entrance and stretches the length of the home is detailed with shadow gaps and vertical lines of cladding helping light travel down the building. Painted white this spine of a stair connects the whole house as a single building. The entrance hall has a large window with enough space for coats, bags and shoes. Storage in the living space is carefully hidden away.
Bedrooms and bathrooms are a good size, light and decoration kept simple, giving occupants a blank canvas to develop as they wish. The red brick used on the facade matches the highlight brick in the existing terrace and the patterned pre-cast pigmented concrete panel above the front door echos the decorative brick patterns on the terraced street. The facade is fun and crafted.
The material selection is tactile, elegant and warm perfectly coordinated with the design as a whole. The client was supportive and encouraging of the architects. The architects answered the client's brief and the house is now occupied by clients who love the home.
The architects have produced an exquisite crafted home that responds elegantly to it's context providing delight to its users as well as to the surrounding area.
Internal Area 130 m²
Contractor Studio PL Ltd
Structural Engineers Elite Designers Structural Engineers