​St Augustines Church
by Roz Barr Architects
Client The Order of St Augustine
Awards RIBA London Award 2018 and RIBA National Award 2018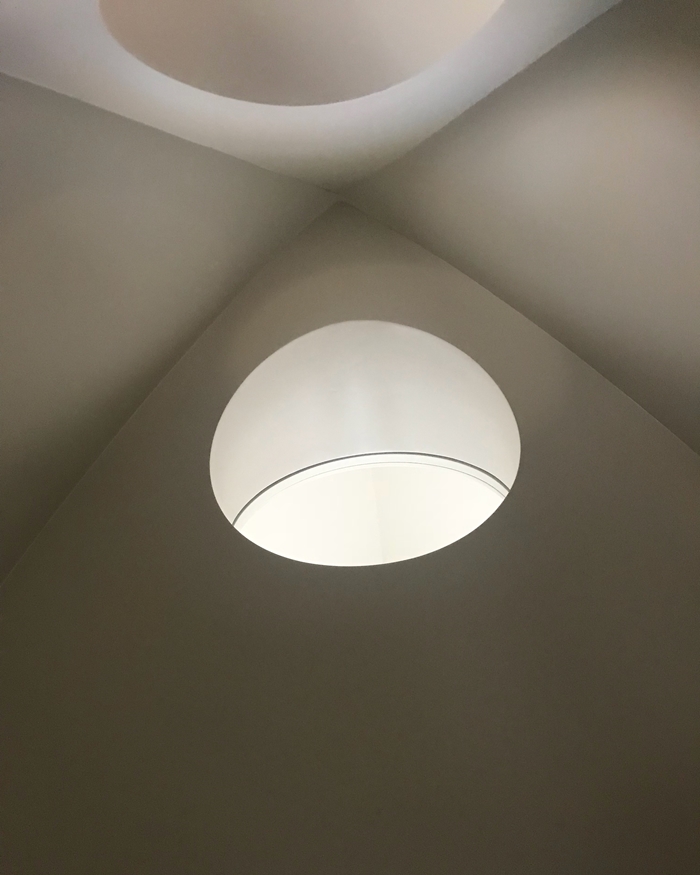 This project demonstrates how with simple moves and extraordinary care and attention, an otherwise unprepossessing building can be transformed, in this case into a place with a calm, ethereal quality, wholly fitting for a sacred space.
In restoring the building years of layers of paint and decoration were stripped back from timber and masonry, though with defects left exposed. Wood in the vestibule and a very dark stained roof in the chapel were stripped back, sanded and treated with a white oil, with the original black steel fixings waxed and left in place. This has created an almost Shaker like aesthetic of lightness, simplicity and purity. New confession booths were formed, delicately detailed to echo the form of the internal vaulted ceilings. The floor level of the altar was raised and reconfigured, with a large slab of green marble, which must have sat rather heavily as a backdrop to one of the side altar, transformed by being carefully integrated into the high altar floor. Combined with a large, beautifully formed cast iron circular light fitting, this subtly defines the aura of the high altar, reinforced by a very delicate fresco, hand-painted and depicted in gold leaf on the rear wall of the altar. The architect's fruitful collaboration with artisans and makers permeates this project, with the focus being the high altar itself, a strong simple form in blood red Venetian plaster, by the ceramicist Julian Stair
An innovative heating system has been introduced, with heating pipes embedded in the masonry walls, with the intention of creating a more sustainable and efficient solution to servicing historic fabric than is usual. The principle is that since the church has a very large volume and occasional use, copper heating pipes embedded just below the window cills will heat the walls, which will radiate heat at congregation level. The effect should be to raise the radiant temperature while lowering air temperature as one moves up the wall. The results are still being monitored for temperature, comfort and energy expenditure, as part of a long term assessment. By warming the heavyweight walls, the internal moisture was reduced, which in turn reduced the overall u-value of the walls. This helped eliminate rising damp within the historic structure.
On this project, the effect of very careful stripping away and subtle restoration, combined with beautiful and accomplished detailing and the addition of exquisitely crafted sacred elements, has transformed a mediocre building into a place with a transcendental quality, expressed through the human effort of making simple things very special.
Internal Area 585 m²

Contractor Clive Graham Associates

Environmental / M&E Engineers Ritchie + Daffin
Structural Engineers Smith and Wallwork Engineers
Graphic Design John Morgan Studio