​​Turners House
by Butler Hegarty Architects
Client Turner's House Trust
Awards RIBA London Award 2018, RIBA London Conservation Award 2018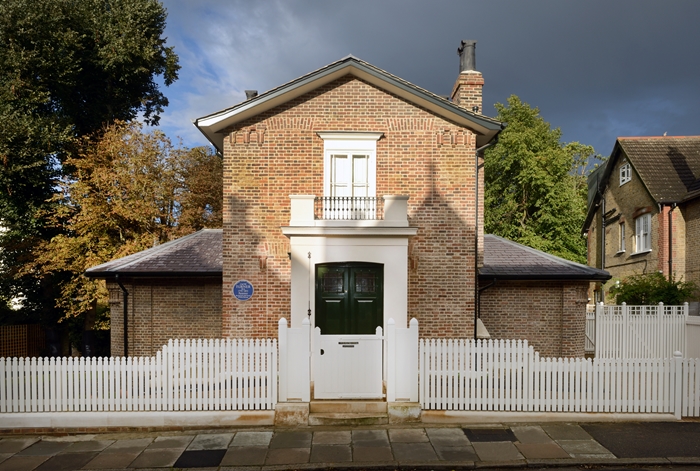 This quietly radical project is not so much an exercise in preservation as an extensive restoration of the diminutive villa that the artist J M W Turner had built for himself in Twickenham as a retreat from his busy London life; a place for fishing and for his father to live.
To a great extent, the original design of Sandycombe Lodge (1813-15) was Turner's own, although the hand, or at least the ideas, of his friend Sir John Soane (who had his own house at nearby Pitzhanger Manor) can be detected in moves such as its incised external decoration and tight and intense entrance hall with its sequence of arches.
But after Turner's departure in 1826 upper storeys were added to its single-storey wings and further alterations followed.
The grade II* villa was in a poor state until recently and 'at risk' until Butler Hegarty Architects embarked on a £1.2 million programme.
The exemplary restoration of Turner's design involved demolishing the later additions including removing external render the upper wings, remodelling its interior and furnishing it as a museum using the inventory of Turner's London house and the artist's own sketchbooks.
The architect describes the house as being returned to a "solemn brick structure" rather than its "polite Regency" incarnation.
Such extensive re-making would not be the usual approach to a building of this calibre and removing the wings could be seen as antithetical to the rigorous anti-scrape conservation philosophy of bodies such as the Society for the Protection of Ancient Buildings. But the bold decisions are in this case justified in successfully recreating a unique vision – and Turner's largest work.
The now much reduced grounds have also been remodelled (with landscaper Bramhill Design) to offer something of a flavour of the Romantic Picturesque that so informed Turner's art.
Internal Area 189 m²
Contractor Fuller's Builders

Structural Engineers Hockley and Dawson
Quantity Surveyor / Cost Consultant Sawyer and Fisher (Epsom) Ltd.
Environmental / M&E Engineers MCA Consulting Engineers Ltd.
Landscape Architects Bramhill Design
Architectural Paint Research Historic Interiors Research and Conservation