​Upper Richmond Road
by Allford Hall Monaghan Morris
Client London Square
Awards RIBA London Award 2018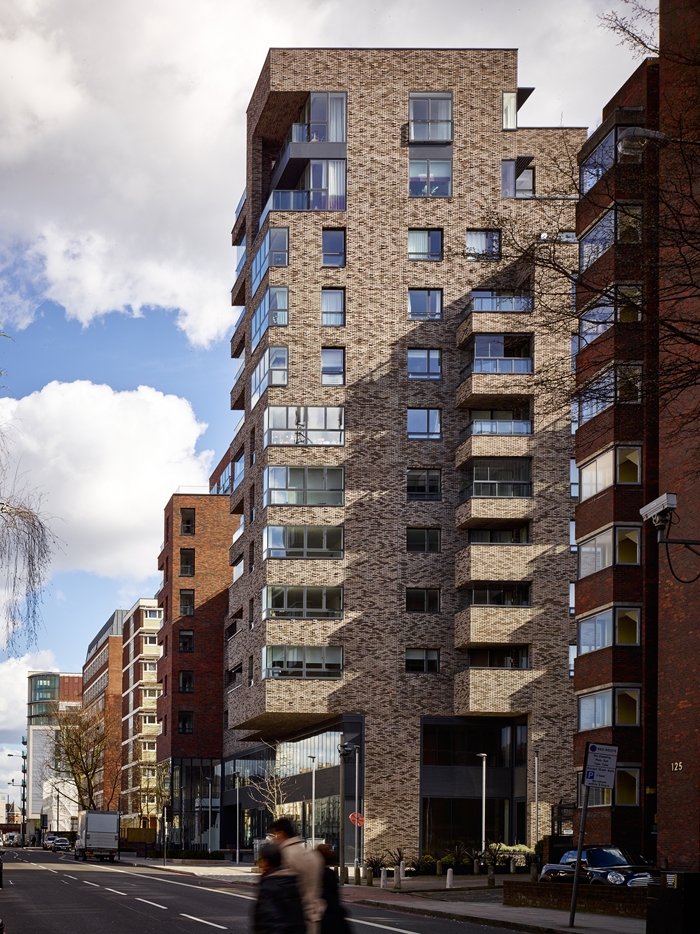 Living in the city is enhanced by the cross cultural mix of use and constituencies. Housing adjacent to commercial and retail space brings vibrancy to place and activity throughout the day. Upper Richmond Road is a fine example of how to create a place that responds to its city context, brings life to the street, offers commercial activity where suitable and creates a place to live at density that is delightful.
The urban block as built was delivered in two phases with the west block arriving first and the east later. The architect has skillfully addressed this phasing by the creation of a south facing courtyard around which both phases wrap.
Circulation to both cores is sliced through the centre of the plan entered from a generous and quiet hard landscaped west facing courtyard given a sense of place by an associated low rise commercial unit which allows southern light into the space and a striking diagonal of green glazed brick that suggests entrance.
The sequence of entry is both expressive and punctuated with joyful moments. An impressive exposed concrete stair that flies through a double height void encourages use by residents to second floor accommodation; views to the green south facing community space are shared by the route to the core of the phase two development.
Retail units face north and bring life to the street whereas commercial activity shares the courtyard behind, both units enjoying triple aspect and a visual connection to other residential members of this micro community.
The significant mass of the buildings above house dual aspect units that also wrap around individual private balconies creating a flow and dynamism within each living space and bedroom that belies the size of the accommodation.
The arrangement creates a shift in plan which alternately creates a staggered central corridor, successfully giving further individuality of home between turns in its length.
The parti of the north south orientated blocks allows for a section which provides significant south facing terraces to the larger units higher up the building. A further careful consideration to varied public and private amenity space.
Materials used in the project are of high quality and are varied to break down the overall mass of the building. The shifts in plan, the terracing and a prominent cantilever adjacent to the entrance court achieve a lightness of mass which is welcome on a street of heavy brick buildings.
Window and balcony arrangements are considered to great affect with alternating balconies and winter gardens, as well as punched window detailing and flush window expression.
As an exercise in solid and void the facade is delightful in its play of shadow and reflection. An exercise in creating variety and visual levity in response to a double loaded housing typology.
The overall effect of the staggering, wrapping and slicing of space and form create a lively and enjoyable civic aesthetic that is suggestive of a place to shop, work, live and play.
The successful conglomeration of several architectural ideas that challenge many such a housing scheme is admirable, in its generosity of material, space and form this is an architecture that makes city living all the more enjoyable.
Internal Area 16,000.00 m²

Contractor London Square
Structural Engineers Heyne Tillett Steel
Landscape Architects Fabrik
Planning Consultant Quod
Fire Consultant Fire Design Solutions
Transport Consultant WSP
Right to Light Surveyors Brooke Vincent & Partners
Building Services Engineer Hoare Lea
CDM Coordinator AECOM
Building Control NHBC
Acoustic Engineers Paragon Acoustics