​Victoria and Albert Museum Members' Room
by Carmody Groarke
Client The Victoria and Albert Museum
Awards RIBA London Award 2018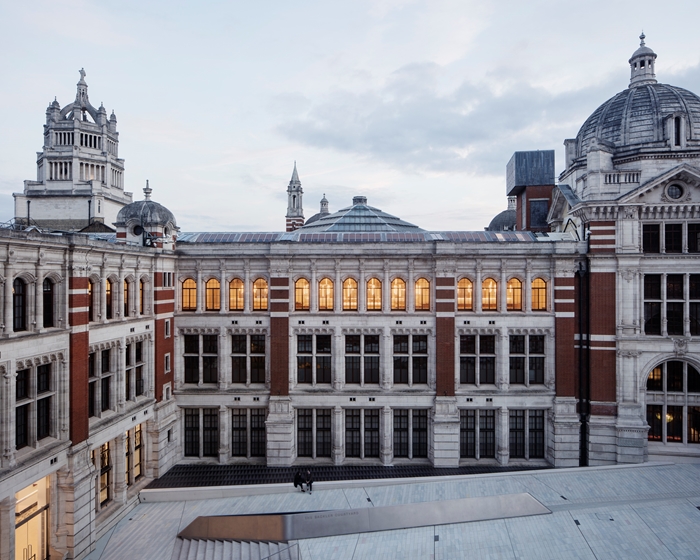 The creation of a members room within a London institution is important to the experience of the museum itself offering a place for respite, congregation and discussion.
The new V&A members room is distinguished in its successful attempt to create a vibrant place to gather that is connected to the entrance sequence of the museum and also to its gallery spaces below.
Views to and from the new heavily modified space are significantly improved through a raised floor and the pervasive use of mirrors to amplify activity and create reflections to outside space.
These new sight lines bring to life the beauty of the surrounding courtyard buildings and the movement of people below, widening people's perception of the internal space and at once giving it an importance commensurate with its location at the heart of the museums life.
Internally the space is bright and fresh utilising and making clean the existing linear rooflight. Modern architecture can often be described as the 'Death of Cosiness' but here a balance has been found between an environment of luminance both in light and acoustic terms, with a material warmth and depth that is both comfortable and refreshing.
The room is divided into rooms within a room, a place of material articulation, through timber and leather sucking and reflecting dull light weighed with delicate scale against the harder surfaces and mirrors. Different congregations of users are accommodated with variable patterns of the beautiful bespoke furniture layout.
The impressive travertine bar is the element that pulls this linear collection of rooms together, impressive in its scale and detail it is suggestive of the gravitas of the collection that is housed in the building below.
The poignant location of this new members room has been carefully chosen to address the newly formed entrance court, the architects have skilfully expressed and magnified the importance of this social space through micro elements that achieve a macro effect.
A fine place to rest or end your day following a trip the the V&A. A work of craft, in light, that feels like it has always been there.
Internal Area 530 m²

Project Management Lendlease
Environmental / M&E Engineers SVM Consulting Engineers
Structural Engineers BDP
Quantity Surveyor / Cost Consultant AECOM
Lighting Design PJC Light Studio
Fire Engineer Design Fire Consultants
Acoustic Consultant Max Fordham
Principal Designer Lendlease