​VEX
by Chance de Silva & Scanner
Client Stephen Chance and Wendy de Silva
Awards RIBA London Award 2018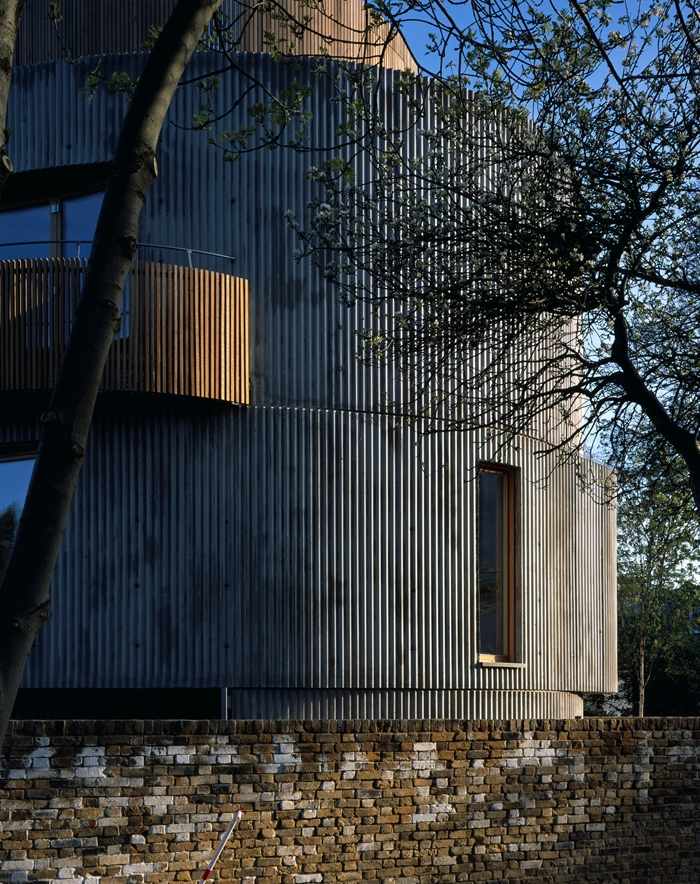 Neighbours of a small site used mainly for fly-tipping suggested to the architects Chance de Silva that it could be transformed into a private house. A corner site on a residential street has now become an experiment in architecture and sound. The music 'Vexations' by Erik Satie, a potentially endless loop of notes, was the starting point for the collaboration between the architects and the sound artist Scanner.
The resulting curved form reduces the volume of the building from the street and allows it to be pulled forward in front of the building line taking advantage of the views. It celebrates the honesty of exposed materials where you can see the 'making' of the components both inside and outside the building.
Each floor having a separate fluid shape and size and stacked at different angles allowing clever use of the views. The texture of the curved, fluted concrete created by using boat-like formwork adds to the rawness of the exterior.
The layout provides flexible living and work spaces. A tranquil interior with curved walls and staircases throughout and the internal organisation is well thought out.
Particularly delightful is the living/dining/kitchen area on the 2nd floor with simple wooden shelves and cupboards complemented by metal screens and fittings, all purpose built. A circular roof light illuminates the pale yellow kitchen work surfaces and sink complementing the grey floors.
There is a bedroom and shower room on the ground floor, which could be converted into a separate studio. The first floor has 2 curved bedrooms connected by a shared bathroom. Each have different shaped windows and roof lights created by the overlapping floors.
Lastly, the roof terrace is an oval wood-screened private space, sitting on a green roof and has space for a conservatory, a place for quiet contemplation.
A unique house created through cultural collaboration, which lovingly uses honest materials and with handcrafted elements throughout. The architects have taken an experimental approach to a project, taking 8 years to complete, and the result is uplifting.
Internal Area 115 m²

Contractor TBA Contractors Ltd
Structural Engineers Price and Myers
Quantity Surveyor / Cost Consultant Richard Keat Associates
Environmental / M&E Engineers Price and Myers
Civil/Drainage Engineer Price and Myers
Building Control Consultant / PCC Consultant Assent Building Control
CDM Flood Partnership
Party Wall Surveyor Watkinson & Cosgrove