​​Weston Street
by Allford Hall Monaghan Morris
Client Solidspace
Awards RIBA London Award 2018 and RIBA National Award 2018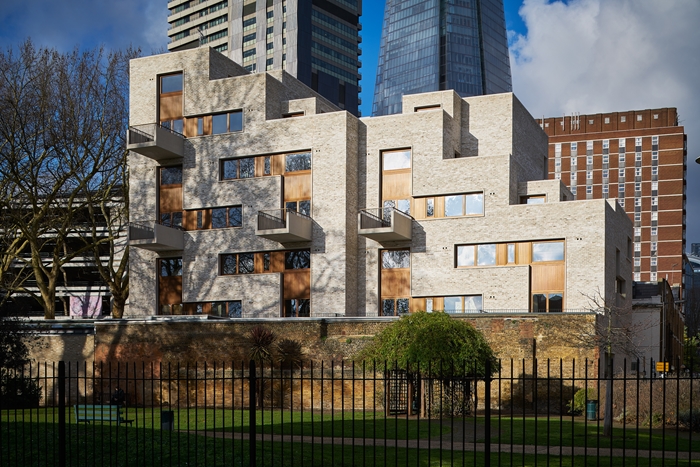 This project is a housing scheme with eight apartments of two or three bedrooms above a ground floor office space. Arranged in two staggered blocks with a stair and lift core running up the middle of each cluster, the split-section, dual-aspect apartments benefit from north and south light. The scheme uses the Solidspace model.
These are exquisitely crafted modern homes. A tactile choice of materials are used coupled with beautiful interior detailing. The exposed concrete feels warm, welcoming and friendly with the timber interior linings of oak or walnut. The concrete has been poured in sections and cast using shutters of rough-dawn Douglas fir, giving a board-marked finish.

Large picture windows are on all external walls allowing plenty of light in and views out. Blinds are built into the windows.

There are storage cupboards to store the everyday items of modern life like the ironing board as well as built-in joinery items like a bookcase.

The length of the balconies allow for the occupant to move away from the building to look back at it and in doing providing additional amenity space.

The interlocking volumes of the apartments are expressed through large L or T-shaped windows set into deep reveals.

On ground-floor office space covers the southern part of the building footprint, with smaller meeting room and ancillary spaces tucked into the northern part of the plan. The office is self-finished in board-marked concrete.

The occupants we met enthusiastically told us about their home while the architect and client proudly showed us around.

This project has a sense of fun providing an alternative model for fluid space living across split levels for the modern home.
Internal Area 1,926 m²
Contractor Bryen & Langley
Structural Engineers Form Structural Design
Environmental / M&E Engineers Desco
Quantity Surveyor / Cost Consultant Orbell Associates
Project Management Solidspace
CDM coordinator
 Orbell Associates
Approved Building Inspector
 MLM
Landscape Architects Coe Design
Fire Consultant Optimise Europe
Acoustic Engineers Sandy Brown Associates
Concrete Frame Oliver Connell & Son
Environmental Consultant Hilson Moran
Planning Consultant AZ Urban Studio
Party Wall Surveyor Andrew Karoly
Building Control MLM Building Control