168 Upper Street
by Groupwork
Client Aria
Awards RIBA London Award 2019 and RIBA National Award 2019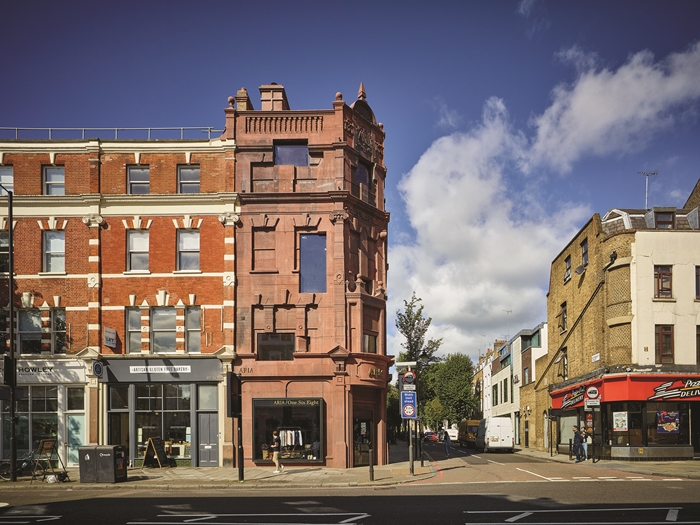 Historically, pocket parks made on post war bombsites became highly valued by their local communities; It is apposite that, when this former bomb site on the corner of Islington's Upper Street and Barnsbury Street was finally redeveloped, that the building so artfully created for it, is destined to become a memorable London landmark.
Contributing to the streetscape with remarkable delight this intervention is a 1:1 cast monument and memory to the Victorian terrace which previously existed on this plot. The terracotta tinted concrete facades deftly play with the themes of memory; actual, imagined, created, true and false. Painstakingly cast into machine milled polystyrene moulds constructed from photographs and a digital 3D survey of the mirror corner at the other end of the terrace, it creates, rather than re-creates, sculptural facades which are both energetic and reposeful.
Evoking Rachael Whiteread's 1993 lost Turner prize winning sculpture Untitled 'House', its plastic, concrete materiality ensures that there is absolutely no possibility of it being mistaken for a recreated Victorian building. Fenestration is punched in response to internal function through cornice details, mullions and cills of the cast façade reinforcing this subversive game. This extraordinary building demonstrates the exuberance and classical rule breaking of Boromini's iconic masterpiece San Carlo alle Quattro Fontane, while exhibiting an engaging tongue in cheek playfulness and innovation with passers-by. It is a wonderful achievement by the architects and their commissioning clients.
Housing a beautifully curated contemporary shop at ground floor with working ateliers and apartments above, each space has been intelligently carved out with airy double height volumes and vistas into space beyond. Apartments are accessed from Barnsbury Street via a secret hinged section of the façade which leads through to a glazed passage providing an unexpected backstage view of the shop.
The unusual external wall construction becomes more evident within as it becomes clear that the internal and external leafs have been cast together with insulation between. Construction day joints in the concrete permanently express the poured nature of the architecture, while the pink hue and historic wall paper imprints soften the domestic spaces. Exposed cross-laminated timber floors and walls are employed within this shell with impressively detailed and constructed joinery.
Constructed within a budget which would be expected for a more conventional building and built with great skill and panache by the design and construction team, this is an artfully subtle and generous contribution to both the architectural and the street scene.
Contract Value £1,800,000
Internal Area 545 m²
Contractor Talina Builders
Structural Engineer Webb Yates Engineers
Environmental / M&E Engineer Syntegra Group
Quantity Surveyor / Cost Consultant Cumming Europe
Fire Engineering Optimise
Acoustic Engineer Syntegra Group
Structural Engineer - Specialist Metalwork Entuitive Consulting Engineers