Alexandra Palace
by Feilden Clegg Bradley Studios
Client Alexandra Park & Palace Charitable Trust
Awards RIBA London Award 2019, RIBA London Conservation Award 2019 and RIBA National Award 2019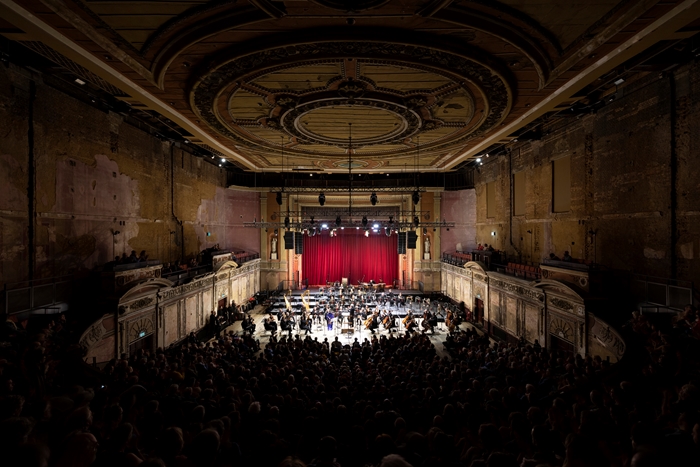 This regeneration of the east wing of Alexandra Palace involved substantial work to significant historic Grade II Listed fabric largely hidden from the public for over 80 years. With a vast expanse of space to consider the client and architects for the scheme have done a magnificent job, delivering and spending hard won budget to excellent effect.
First and foremost, the project involved much-needed conservation work on the building envelope to secure its long-term future. Next, the opening up to the public of the 'People's Palace' with its vast newly glazed top-lit space originally conceived as an exhibition hall. This necessary work has now created a welcoming, bright, multifunctional space injected enthusiastically with soul and a vibrant 1000 m² floor painting. This significant element of the vast seven-acre palace now awaits a diverse range of collaborators to provide welcoming catering, events and entertainment to the local and wider London community. Currently it houses an exhibition about the Palace's history.
The real architectural surprise and delight is to be found in the third element of the scheme; the almost magically revealed theatre, a treasure trove of crumbling Victorian plaster, pragmatically retained and stabilised in-situ. From a conservation viewpoint, this part of the Grade II Listed building has been rejuvenated and a sleeping beauty within the labyrinth that is Ally Pally has been reawakened for all to enjoy. This conservation work has been executed sensitively and in an honest, almost heartfelt manner, reflecting its treatment since it was first created by carefully retaining and making safe the remaining historic fabric, whilst not being afraid to carefully alter it where necessary.
Where the architect has intervened more obviously, care has been taken to re-create the historic colours and textures of the original paint. The insertion of new soft velveteen seats in a shade of rich coral in a carefully remodeled auditorium has resulted in a sense of intimacy rarely achieved in such a large space.
The theatre has been subject to significant alterations to allow it to accommodate a range of performance formats not envisaged by its Victorian designers, bringing an exciting new cultural and community programme to the Palace. Services and infrastructure required have been discretely integrated into the existing historic fabric including ramps and a new lift.
The architects response to the Charitable Trust's brief has led to a great sense of shared endeavour which coherently and very successfully delivers a refreshed and reinvigorated People's Palace. They have not been afraid to leave plenty of space for the people using it to shape, engage with and grow into. A stunning achievement in any circumstances, but a genuine triumph in the face of the current political and economic climate.
Contract Value £17m
Internal Area 5,920 m²
Contractor Willmott Dixon
Structural Engineer Alan Baxter & Associates
Environmental / M&E Engineer Max Fordham
Quantity Surveyor / Cost Consultant Mott MacDonald
Project Management AA Watson Project Consulting
Acoustic Engineer Max Fordham
Access Consultant All Clear Designs (Stage 1-3), FCB Studios (Stage 4-7)
Lighting Design Max Fordham / Ridge
The Fire Surgery Fire Engineer
Theatre Design Charcoalblue
Graphic Artist Art+Believe