Alleyn's School Lower School
by Tim Ronalds Architects
Client Alleyn's School
Awards RIBA London Award 2019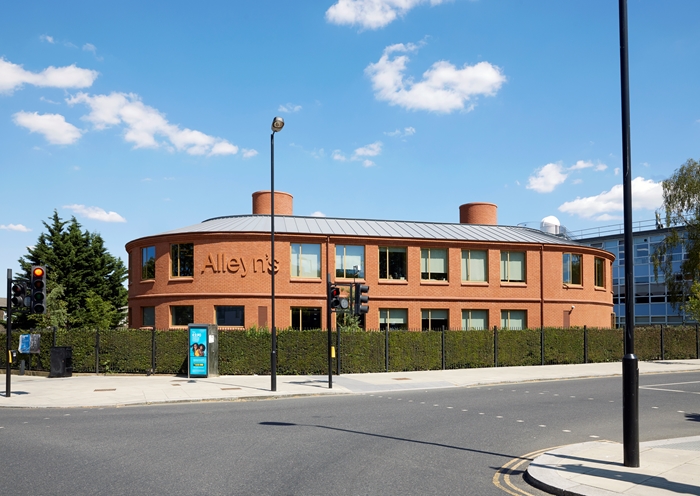 Alleyn's Lower School provides a safe and welcoming environment for children transitioning from primary to secondary school. This has been successfully achieved through the building's layout of classrooms, which are arranged around a top-lit central space, and the warm palette of robust materials, which include timber and brick.
The building makes a positive contribution to the wider urban context through its definition of the triangular site. Its sensitive approach to scale and massing ensure it does not overwhelm residential neighbours. Its distinctive appearance – achieved by its form and restrained brick detailing – creates a readily identifiable landmark for the school.
The triangular building maximises the best use of the site, and creates a clear, legible and easy-to use building internally. The classrooms have been successfully distributed in clusters of two, grouped around the three sides of the atrium over two floors. The upper classrooms are particularly successful, as they utilise the pitched roof space to create a spatial characteristic reminiscent of home. The building's layout has eliminated the need for long, intimidating corridors. This has resulted in circulation spaces being cleverly integrated with social spaces.
The central space, while compact, creates an intimate space for the children to gather and socialise. Its size has the added benefit of creating visual connections between teachers and the children, offering important non-verbal reassurance to children who feel unsure in their new environment.
The spatial arrangement of classrooms in a triangular form around the central atrium creates an intimate building that is attuned to the scale and spatial requirements of the 300 pupils who occupy the building.
It is abundantly apparent that the architect has given careful consideration to the needs of the children and their teachers. The building provides a safe, welcoming and nurturing environment for them to learn, socialise and grow, setting a fantastic precedent for future school projects.
Internal Area 1,286 m²
Contractor Rooff Limited
Structural Engineer Eckersley O'Callaghan
Environmental / M&E Engineer E3 Consulting Engineers
Quantity Surveyor / Cost Consultant Arcadis
Acoustic Engineer Ramboll
Building Control Harwood Building Control
BREEAM Assessor HRS Services