Battersea Arts Centre
by Haworth Tompkins
Client Battersea Arts Centre
Awards RIBA London Award 2019 and RIBA London Client of the Year Award 2019 and RIBA National Award 2019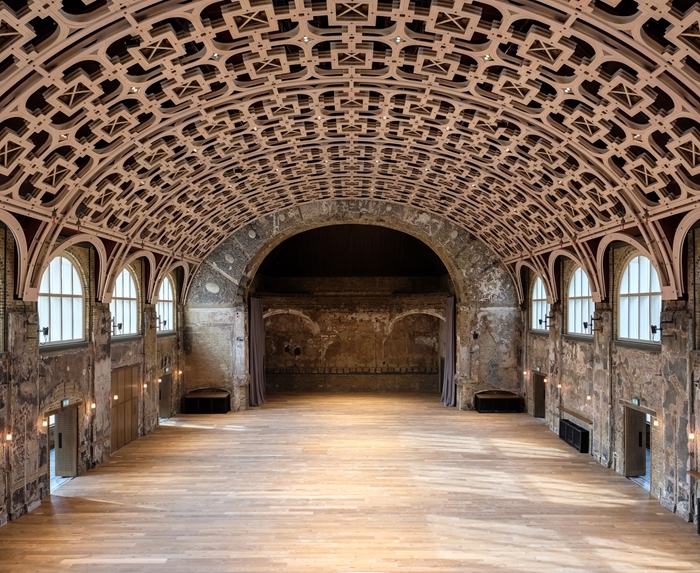 This is the culmination of a 12 year restoration project of the Grade II* Listed building which was extended when a devastating fire destroyed its Grand Hall.
The brief and design process have been far from conventional and have taken inspiration from the process of 'scratch theatre' pioneered at BAC where ideas are tested out live and audience feedback is then used to evolve the performance. It is evident that the client and architect have worked in a truly collaborative and flexible way throughout the project.
The existing building is a rambling Victorian town hall with a rich history and the attitude to the restoration has achieved a joyous balance between leaving as found and making new insertions.
Areas such as the central courtyard previously filled with lean to structures have been converted into an outdoor theatre. The stitching in of the new is clearly expressed with the white ceramic bricks in contrast to the existing red brick gables.
One wing of an existing attic has been converted into a light and airy space for the staff which opens onto a new rooftop garden. Another wing has incorporated artists' bedrooms and 35 performance spaces. The basement has also been restored and now houses a creative business hub.
The most striking approach to old and new comes in the Grand Hall. The roof was entirely destroyed in the fire whilst the majority of the structural masonry walls survived. The burnt and scarred surfaces of exposed brick and plaster have been kept and then contrasted with highly crafted new insertions such as the patterned ceiling panels and doors to the flanking corridors. The roof to the hall itself is the most dramatic intervention. This has been constructed in the same profile as the original but introduces a beautiful open plywood lattice, referencing the memory of pattern from the previous plaster mouldings in the barrel vault. New technical infrastructure above the lattice provides ventilation, greater theatrical possibilities and variable acoustics.
The building exudes a huge energy and a sense of surprise, delight and humour at every corner. This is astute conservation, in keeping with the spirit of the building and its function as an inspiring stage, all achieved on a challenging budget.
Contract Value £19.2m
Internal Area 5,625 m²
Contractor 8Build, Gilbert Ash and Ashe
Structural Engineer Heyne Tillett Steel
Environmental / M&E Engineer Skelly & Couch
Acoustic Engineer Gillieron Scott Acoustic Design
Lighting Design Haworth Tompkins / Robert McIntyre
Structural Engineer Price & Myers
M&E Engineer XCO2
Acoustic Engineer Soundspace Design
Theatre Consultant Theatreplan and Charcoalblue
Quantity Surveyor / Cost Consultant Bristow Johnson
Collaborating Artist Jake Tilson
Contract Administration TGA Building Consultancy
Contract Administration Bristow Johnson
Quantity Surveyor Bristow Johnson