Blue Mountain School
by 6a architects
Client James Brown
Awards RIBA London Award 2019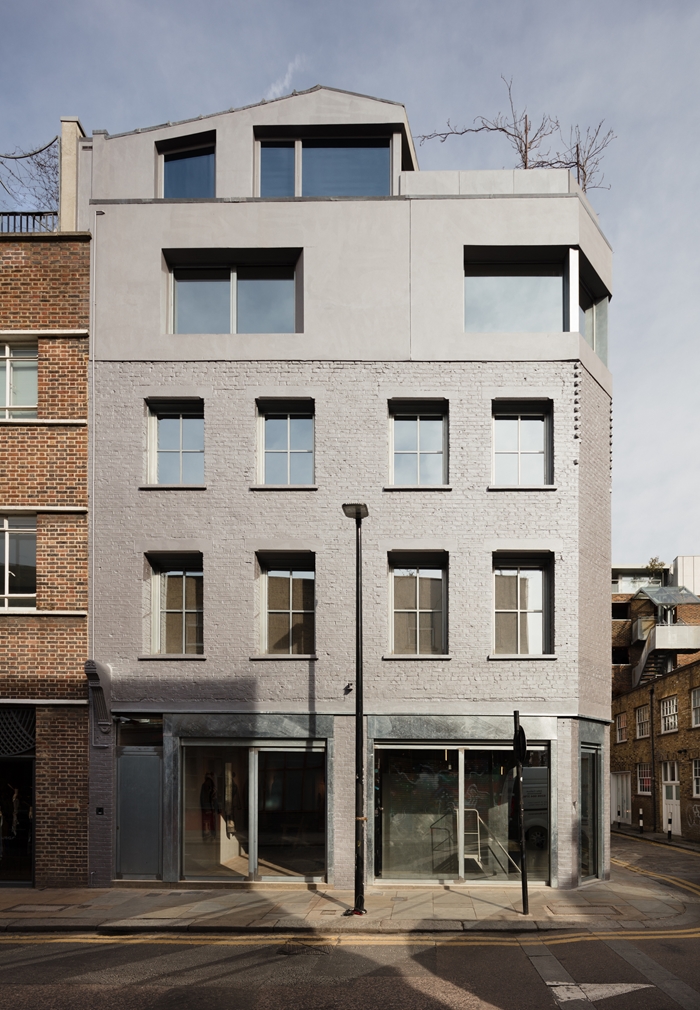 The clients are the owners of retail brand Hostem and were one of the first to trigger the renaissance of Redchurch Street in Shoreditch. It was their desire to challenge the perception of (and interaction with) food, art and fashion (and fragrance) and to nurture engagement and interaction between these diverse yet compatible sectors under one roof. They set out without a clear brief to select an architect to deliver the as-yet undefined Blue Mountain School.
6a were chosen on the basis of their first project, the Oki-ni Flagship Store in Savile Row, where garments could be viewed and only available to buy online.
Blue Mountain School is extraordinary both in its delivery process and in the resulting building, a project developed and founded on trust between client and architect and their mutual relationship with a joiner called Wayne! This was a three-year collaboration – two years of thought-exchange and one of construction. Ideas continued to evolve during construction and many artists and designers collaborated on the project as the different contributors were identified. Chef Nuno Mendes's dining club, Mãos, was a late inclusion, which called for incorporation of a new services strategy to accommodate a professional kitchen. The architect had to demonstrate ingenuity and quick thinking in response to the 'fluid' brief.
The palette of materials used here is simple, 3 types of bonding plaster which are sometimes left raw and often painted, galvanised metal and a prominent feature of the building, oak from trees sourced and provided by the client which is used for floors, furniture and the central staircase where the extraordinary result is a testament to the close collaboration between client, architect and Wayne.
Attention to detail can be seen wherever you look, an example of this is the clever integration of the air conditioning units into the walls.
Spread over six floors, the building is host to several unique and flexible spaces: Mãos, a professional kitchen, dining and wine rooms; Grace's, a listening room; Blue Projects, an exhibition space comprised of a series of viewing rooms; a perfumery; and Hostem, an open fashion archive.
Blue Mountain School is a display of 6a's signature attention to making, in which materials, processes and the 'hand' are expressed and celebrated throughout the six-storey monument to fashion and complementary curiosities, the archive is a stunning space where compactor sliding cabinets houses the fashion archive. It is in the basement but can be viewed from street and the ground floor entrance. It is in opposition to our current understanding or acceptance of retail in that it has no shopfront, no floor at street level and doesn't display its core offer and reflective glass to the street adds a further layer of mystery.
This building is intellectually and conceptually rigorous. The client, architect and joiner relationship is one of trust, collaboration and innovation.
Blue Mountain School will continue to evolve based on the influence of all those involved. Various friends, designers and leading practitioners within their field are part of this ongoing collaboration. This project challenges the future of retail, how buildings are designed and how buildings should be procured and constructed.
Internal Area 486 m²
Contractor Blue Mountain School / Wayne Gabriel
Structural Engineer Price & Myers
Approved Inspector MLM
Graphic Designer John Morgan Studio
Contributing Designer Studio Valentin Loellmann
Contributing Designer BDDW