Brentford Lock West Keelson Gardens
by Mae
Client Waterside Places
Awards RIBA London Award 2019 and RIBA National Award 2019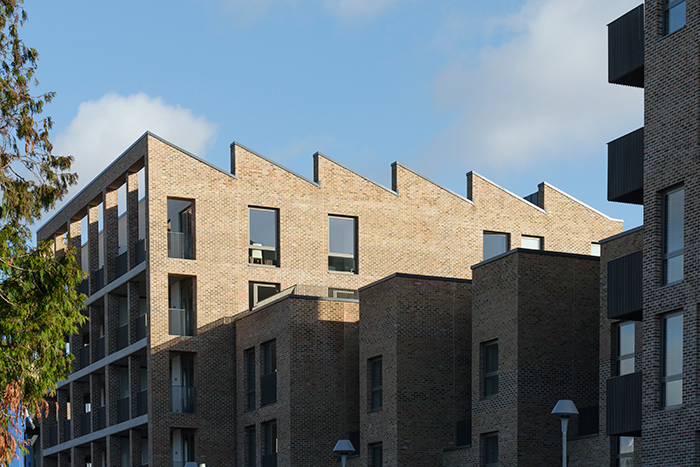 As phase two of a three-phase residential regeneration masterplan beside the Grand Union Canal, the scheme is a thoughtful evolution of phase one, housing a mixed tenure of accommodation.
The scheme comprises two plots, one of which is formed around a courtyard garden for residents, and the other set back from the public canalside walk. Six pavilion buildings hold the corners of each plot with their distinctive saw-tooth roofs reflecting the site's industrial past. These are linked with rows of townhouses and bridge structures that form entrance portals with accommodation above. The waterfront block incorporates a double height entrance and communal space between the two pavilions which affords a transparency to the scheme and visual link to the canalside.
Each pavilion block is distinguished by gridded loggias providing depth and modelling to the facade as well as versatile outdoor covered spaces to the apartments. The material palette of warm brick, reconstituted stone and metalwork is controlled and carefully detailed throughout.
The buildings sit within a shared surface public realm and successfully define front gardens to the ground floor accommodation with low walls and varied planting.
Internally, the flats are well planned, and the arrangement of linked pavilions enables every flat to have dual aspect and enjoy a pleasant quality of natural light. The townhouses are arranged over four storeys and use the built form to hold a series of external gardens and terraces. The entrance hall to each townhouse provides an unusually generous and versatile space.
Overall, this is a high quality work of architecture, landscaping and residential environment achieved for a modest budget.
Internal Area 19,606 m²
Contractor McAleer & Rushe
Structural Engineer Expedition UK
Environmental / M&E Engineer Eight Associates
Quantity Surveyor / Cost Consultant Tower Eight
Project Management Tower Eight
Acoustic Engineer Buro Happold
Landscape Architect Camlins
Services Engineer Thornton Reyolds
Fire Consultant The Fire Surgery
Daylight / Sunlight Consultant Waterslade
Contractors' Services Engineer Caldwell
Contractors' Structural Engineer Ian Black Consulting
Contractors' Sustainability Consultant BPP Energy
Contractors' Architect White Ink Architects
CDM Coordinator Appleyard & Trew
Planning Consultant Tibbalds Planning and Urban Design
Building Control Approved Inspector Services
Legal Addleshaw Goddard
Contractors' Fire Engineering Micheal Slattery Associates
Contractors' Acoustic Consultant Adnitt Acoustics
Contractors' CDM Consultant Hasco Europe