Earl's Court house
by Sophie Hicks Architects
Client Private
Awards RIBA London Award 2019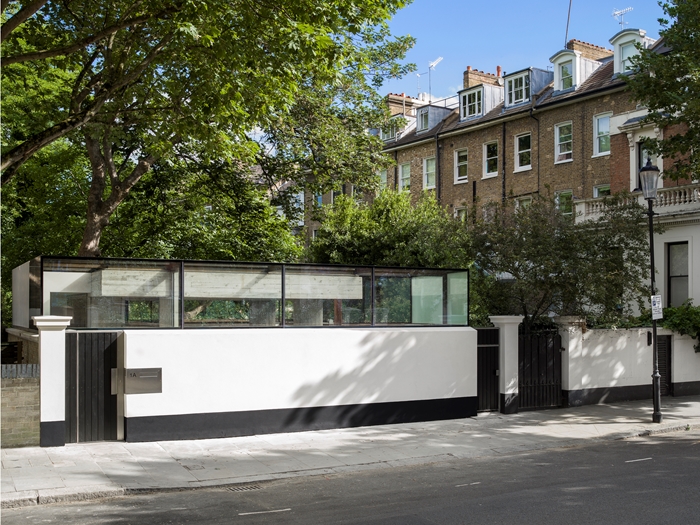 Set in the Kensington district and located in a conservation area, the site of the single dwelling occupies a small plot between Georgian terraces, previously housing two garages.
Planning constraints limited the development height to one storey above the ground, so the approach taken was to maximise the footprint of the building within the site's boundaries and introduce a lower ground storey.
From the street, the rendered garden wall of the neighbouring building has been extended and punctured either end by the gateway entrance to the house and discreetly detailed housing for the bins. The clerestory which emerges above and is set back from the garden wall is the only suggestion that there might be a modern insertion behind.
The house plays with plan, volume, light and relationship to the external environment to give a remarkable perception of space. A living, kitchen and dining space occupies the ground floor, whilst two bedrooms and bathrooms are housed at the lower ground floor.
The building's palette is minimal. In-situ cast concrete structure forms the walls, ceilings, floors and columns. This forms an inherent part of how the building is cooled and warmed. Structural steel elements are introduced to support a fine glazing system. The overall approach allows the materials to tell the story of how they were made (the rough board marked finish to the concrete) or how they weathered during construction (steel to the facade bears the rust marks acquired during the construction sequence). The control of how the materials come together is impressive as is the overall sense of calm and tranquillity imbued by the house.
Internal Area 95 m²
Structural Engineer MLM Consulting Engineers
Environmental / M&E Engineer Libra Services
Quantity Surveyor / Cost Consultant Corrigan Street
Landscape Architect Tania Compton
Lighting Design Arup Lighting
Contract Management BB Partnership
Groundwork / Structure Contractor GMP
Finishing Contractor Advent Developments
Joinery Manning Bespoke