Eleanor Palmer Science Lab
by AY Architects
Client Eleanor Palmer Primary School
Awards RIBA London Award 2019 and RIBA National Award 2019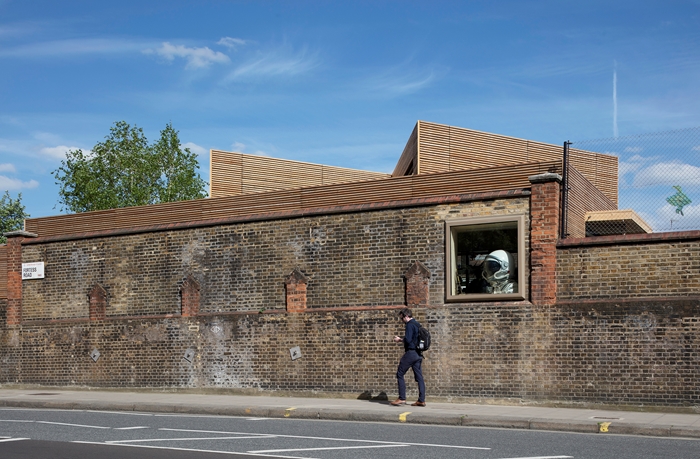 Eleanor Palmer Science Lab is a learning environment that aims 'to foster enquiring minds, curiosity and wonder in the world'. Conceived as a 'wonder room', a cabinet of curiosities and a place for discovery and experimentation, this small wooden structure answers its programmatic and architectural brief with aplomb.
The Lab accommodates classes and after school clubs for up to 31 pupils (aged 3-11 years) and is shared resource for the school, neighbouring community and other schools. The modest construction budget, partly funded with section 106 money deployed by Camden Council as part of its program for developing science, technology, engineering and maths in primary schools, is used to very good effect.
It a is a carefully crafted, environmentally minded, sensitive addition to the local urban fabric. It responds to complex site and boundary conditions. The columned functional rear facade is built against a Victorian boundary wall and punctured by a single deep-silled window providing both glimpses onto a noisy road and a shop window display opportunity to signal to and engage the neighbourhood.
A pair of triangular exposed spruce frame roof volumes constructed from sawn spruce beams and joists in standard sizes are lifted above the main space. They present only their apexes to the road, visually masking their impact and giving generous daylight, ventilation and additional height for experiments in the plywood lined interior. The legible timber frame construction promises to engage children with its structural and material logic and the architectural intent is for children to be able to unpack and analyse the parts of the building intuitively.
The glazed wall to the playground lined with sinks, work surfaces and shelving and the functional rear wall with display cabinets filled with artefacts gathered by the school and specimens brought in by children, define an adaptable free space that visually connects to the external environment. The details, internally and externally, are enjoyably child scaled and the use of a linear bench along the full width of the façade serves to unite previously disjointed playground areas.
Much care and detailed consideration were evident in the way the brief was developed. An empathetic client/architect relationship has resulted in the creation of a delightful, multi layered, beguilingly fresh new building typology for primary school children to engage their curiosity and enjoyment of the sciences.
An excellent example of simple, thoughtful passive environmental design and a notable achievement for everyone involved.
Contract Value £330,000
Internal Area 75 m²
Structural Engineer Price & Myers
Environmental / M&E Engineer Ritchie + Daffin
Quantity Surveyor / Cost Consultant Stockdale