Great Arthur House
by John Robertson Architects
Client City of London Corporation
Awards RIBA London Award 2019 and RIBA National Award 2019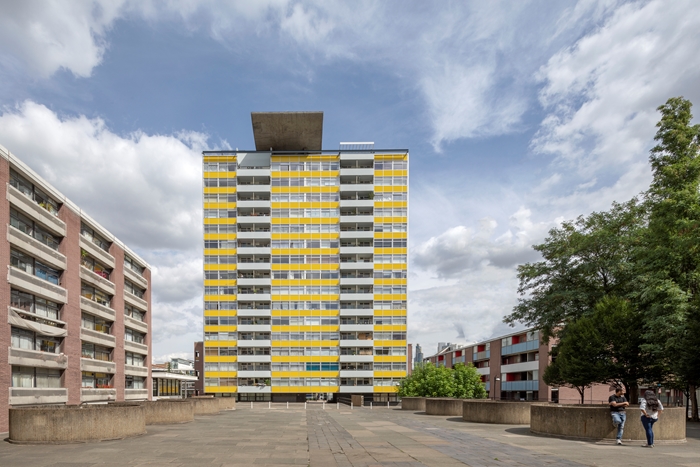 Originally designed in 1956 as part of the Golden Lane Estate by Chamberlin Powell and Bon for the City of London Corporation, this iconic Grade II Listed Building was a hugely influential postwar housing development, with unusual views into The Barbican, their best known work.
In 2013 the City of London Corporation commissioned the architects to replace the building's deteriorating window system with the aim of significantly improving the comfort of the flats, whilst adding significantly to the difficulty by stipulating that the residents continue to live in them throughout the works. During the project, as a response to the tragedy at Grenfell, detailed consideration of the fire performance of the facade was also added to the brief.
The positive problem-solving approach of the architects is evident at every stage of this project. Temporary structurally insulated panel protection screens were erected in every flat whilst the works were undertaken, and the design of new cladding sections, materials and assemblies were all required to be mocked up at 1:1 scale and appraised by Historic England. A new ironmongery mechanism had to be developed for the now significantly heavier double-glazed sliding windows. Detailed consideration was also given to the locations of dew points across the new high performance cladding assembly.
With the old cladding removed and the structure revealed came the realisation that the concrete had been cast to extremely lax postwar tolerances and required individual adjustments to the new screens. Surveys revealed the edges of the concrete balconies were out of plumb, each to a different degree and each needed to be painstakingly ground back to accommodate the new cladding. The outcome is a well-detailed, thermally broken double glazed and prefabricated panel cladding system that achieves an air tightness of less than 5 despite its uneven structural substrate.
As part of this project restoration work has also been undertaken on the iconic sculptural roof plant room and the timber pergolas. If security and staffing issues can be overcome, the roofscape could be re-opened to residents providing a fitting final resolution to the project.
The project involved extensive consultation with leaseholders and tenants, Historic England, The 20th Century Society and the City Planners. This is an enormously competent restoration which is a bench-mark against which the future cladding and re-invigoration of this type of postwar building will be measured.
Internal Area 7,108 m²
Contractor Engie
Structural Engineer Mott MacDonald
Quantity Surveyor / Cost Consultant Currie and Brown