Here East
by Hawkins\Brown
Client Innovation City (London)
Awards RIBA London Award 2019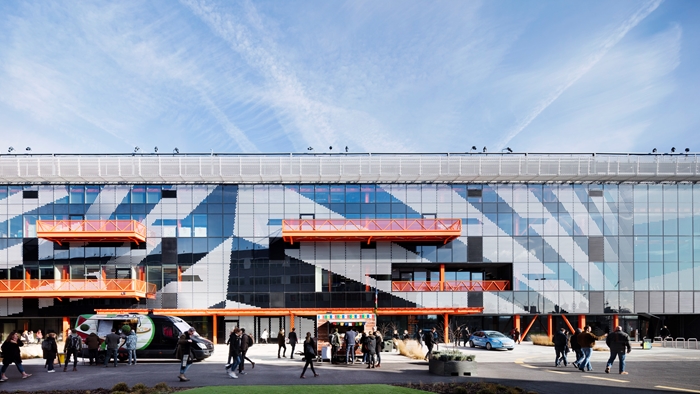 This project involves the transformation of the former Press and Broadcast Centres on the Queen Elizabeth Olympic Park site into a 120,000m² innovation campus for the creative tech community. The original buildings constructed for the Olympics were enormous in scale and the broadcast centre contained volumes with 11m heights but with window-less facades around the perimeter. In this context, what has been delivered is quite an achievement.
The client had no developer background but as an East Londoner had an ambition to offer something to his community, to bring education, employment and enterprise to the area and provide a catalyst for its regeneration.
Seven years in the making, what has been created is a technology-focussed community where small and large companies and education can co-exist. The inclusion of Loughborough University and UCL (who have brought engineering and architecture departments together) as tenants, underpins the client's education ambitions for the site, as they reside alongside companies such as Matches, Ford and BT Sport.
Of primary architectural impact is the 16m active zone around the perimeter of the former broadcasting building, introduction of new glazing façade elements and mezzanine/break-out pods. The spaces/volumes are heavily curated to ensure the presence of the right mix of occupants. Companies are turned away for incompatibility with the client's ethos.
Another special architectural moment is created where the forum space of UCL overlooks the main internal boulevard, its own workshop space and the tech research lab.
By way of contrast, the elevation of the former Press Centre, overlooking the canal has been opened up to provide a range of eateries and outdoor seating that suggests it will be busy at weekends and evenings, especially in the summer.
The latest phase of the campus has recently been completed and involves the reuse of the external galvanised steel gantries which during the Olympics housed plant. The structure has been retained and a series of plywood studios have been created using the wiki house open source technology. The Gantry Studios will support up to 21 creative users, over 2 floors and the galvanised structure helps create a separate mini community within the campus.
This project provides an insight into how technology can (and will) provide innovative answers to challenging issues and that how we as architects must view our buildings / infrastructure and quickly adapt to their ever-changing requirements.
Contract Value £100.7m
Internal Area 103,600 m²
Structural Engineer Buro Happold
Environmental / M&E Engineer Cundall
Quantity Surveyor / Cost Consultant Gardiner and Theobald
Project Management Colliers International
Interior Design Hawkins\Brown
Environmental / M&E Engineer Arup
Development Advisor Delancey Real Estate and Asset Management
Agent Cushman & Wakefield and Knight Frank