Highgate Bowl
by HASA Architects
Client Omved International
Awards RIBA London Award 2019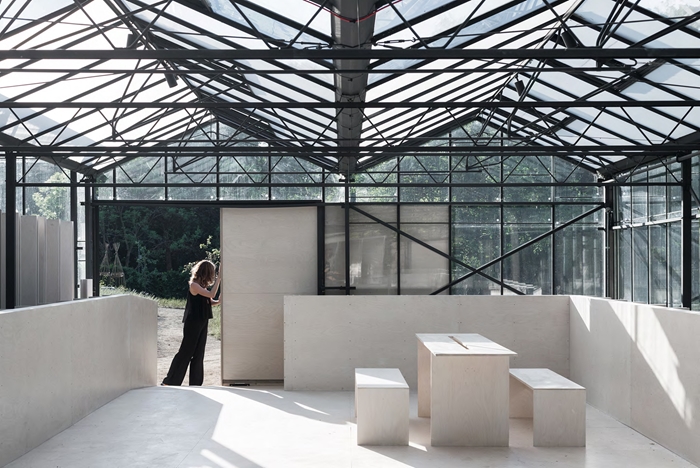 'If we create it, they will come' said the client with a quiet confidence of someone who, after a number of disappointments and false starts on this magical site has realised that something very special is in the offing.
The architects have made some highly effective, very low cost small-scale interventions to transform a derelict horticultural glasshouse at Highgate Bowl near the top of Highgate Hill in North London, bringing this forgotten piece of the city back into public use as a community garden and versatile event space.
These sensitive interventions take the form of new external and internal pathways, as well as rooms and furniture pieces that guide visitors through the large open bays of the restored but still fragile glass house that existed on the site. Roof glazing has been restored or replaced, some with frosted glass and the metal framing simply cleaned and repainted in dark grey.
A very effective white oiled CNC cut birch plywood internal 'skin' has been used to create vertical and horizontal joinery components which reference the original structure's frame and panel construction as they step down with each bay across the inclined site, providing a buffer zone to the facade and informing a horizontal datum at chest height, except for two large new plywood sliding doors which could form a canvas for graphics.
Some are structural, others have a multiplicity of functions, some utilitarian, used to create tables and a central stage/performance area and some processional, for example ramps directing you through the space. The plywood forms a robust interface to protect the fragile structure from human use and create a visual contrast to the dark glasshouse framing. Simple vertical linear lighting is installed into recesses behind the plywood verticals which could interplay with their reflection in the glass.
The use of one material throughout creates continuity, reinforcing the connection between each bay of the glasshouse while the new plywood subtly contrasts with both the old glasshouse and the highly visible landscape.
The brief for the project has been created organically with both the client and the architect 'feeling their way into it'. Sensitivity and lightness of touch is evident throughout much of the architectural installation – much has been achieved with relatively small means.
It is also clear that, although we have reached a delightful staging post, this project will continue to evolve and grow.
Internal Area 320 m²
Structural Engineer Structure Workshop
Access Consultant Access = Design
Fire Consultant Trenton Fire
Approved Inspector Butler Young
Cost Consultant Duncan Macleod
Landscape Architect del Buono Gazerwitz Landscape
Sustainability Consultant Transsolar
Photography Simone Bossi